Case Study
C&J Stonemasonry
– Website Design & Development
– Digital Strategy
– Copywriting
– Google Rankings
– Hosting
– Photography
– Graphic Design
– SEO
"Holler Marketing are a great friendly team with passion in their work, and are always to hand when you need them, giving us the results we want. For the past, present and future, we thank you all for your hard work, from all of us at C&J Stonemasonry Ltd.
John Russell, Office Manager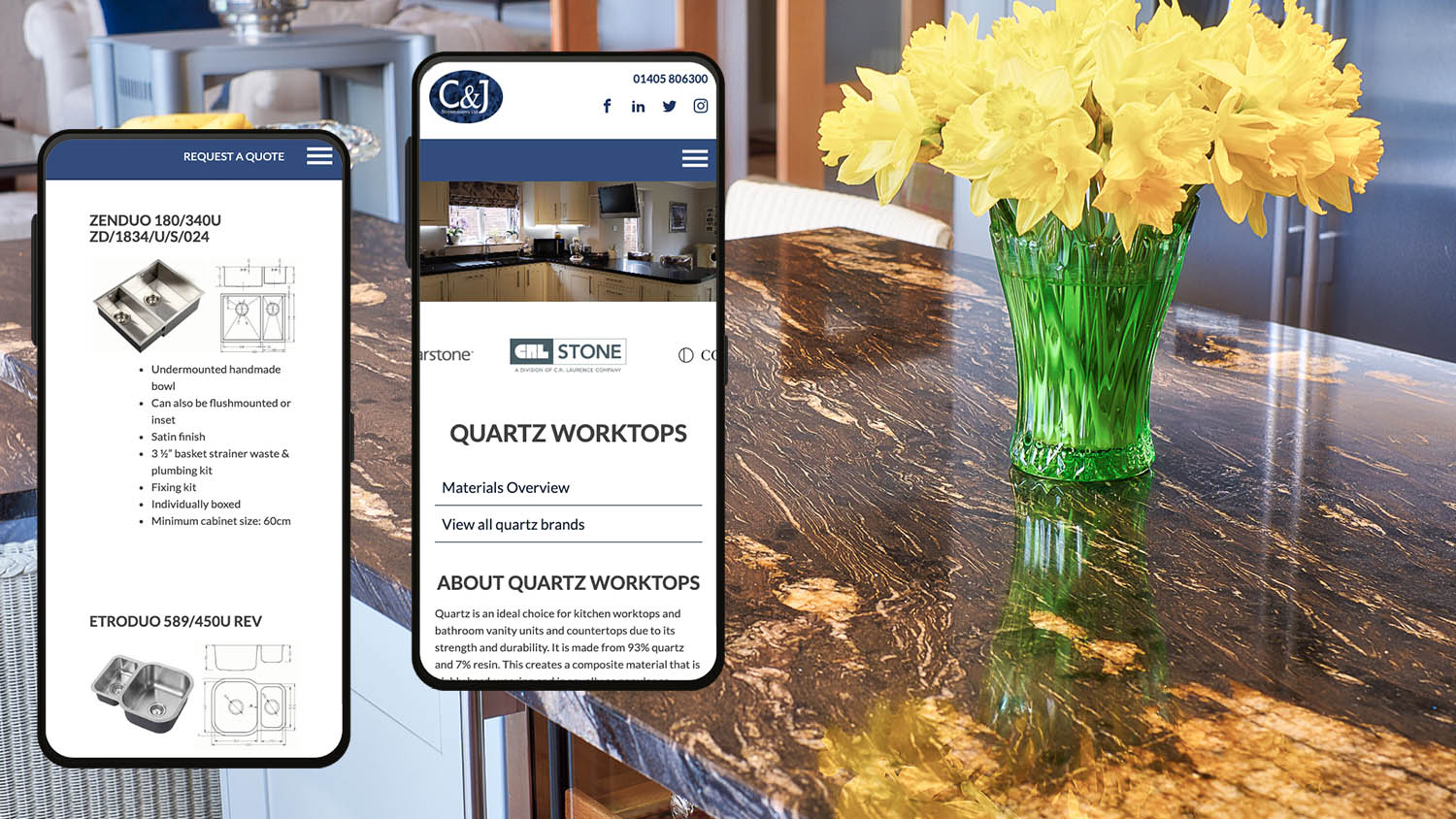 C&J Stonemasonry Ltd are professional granite and quartz worktop suppliers and installers. With over 20 years of experience, they work with the highest quality granite and quartz work surfaces; from commercial installations to kitchens and bathrooms, the utmost care is put into each project.
Over the years we have developed a very close working relationship with the team at C&J, and feel that we know almost as much about their business as they do! What started as an SEO project several years ago has grown into a full marketing and web development package. We maintain the website, and have given it several refreshes, manage their Google Ads campaign, write blogs, create social media posts and interact with followers on their behalf. We also create printed material, including banners, adverts and business stationery. We have photographed some of the worktops they have installed, and made a promotional video to show the process from start to finish.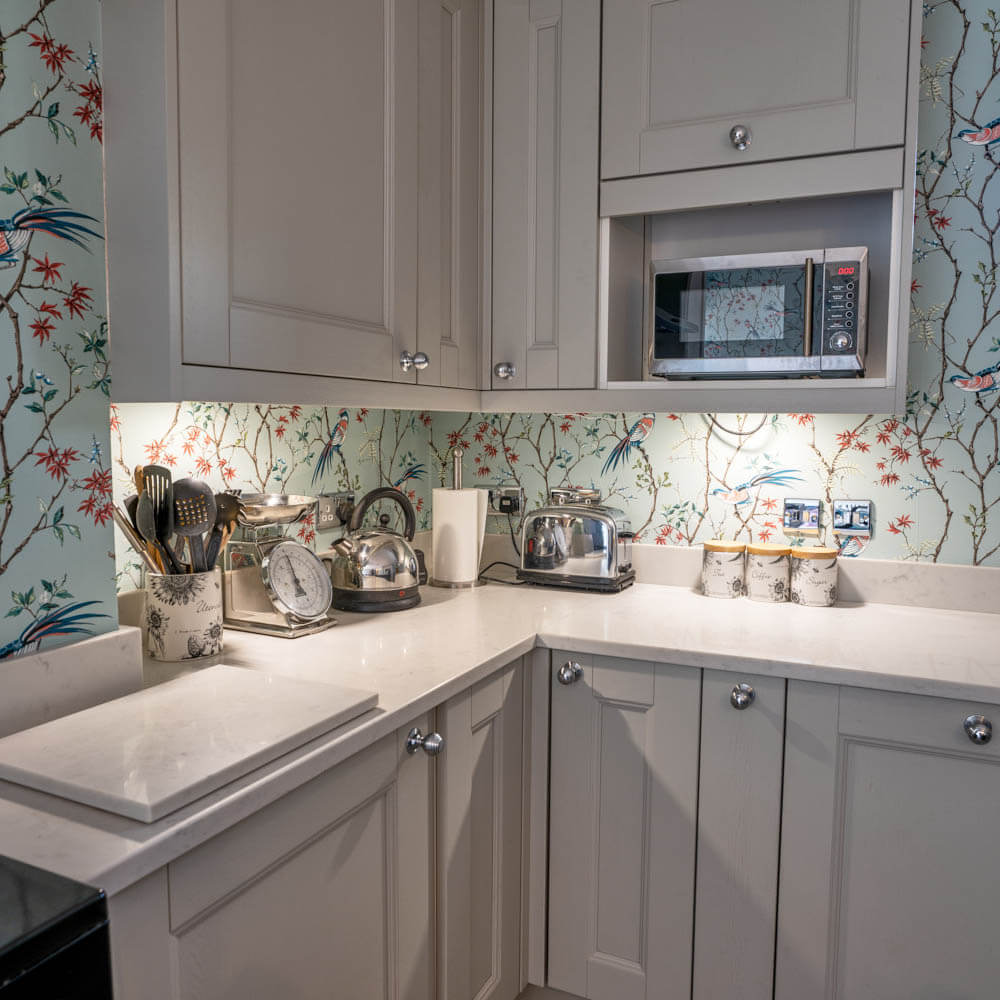 Web Services
Over the years we have worked closely with C&J Stonemasonry to design and develop their website as they have grown as a business. Increasing visibility through organic search engine optimisation and Google Ads is only half the equation…
The website needs to showcase their beautiful work as well as convert visits to enquiries. Our primary objective for C&J is not just to develop an eye-catching brochure site, but to ensure users engage fully: view case studies, order samples, and ultimately place orders.
Website Design
The decision to purchase a granite or quartz worktop is not made overnight. The website design has to cater for a unique website experience, although the website is not an e-commerce site, the design is structured similarly to one. We made this decision as there was specific functionality needed for the site that allows the customer to view and order samples of the materials.
Website Development
Most initial visits to the website are made from mobile devices when the potential customer is scoping out ideas and looking for inspiration. As such, the site needs to be mobile friendly, quick, and contain lots of high quality images. The sample ordering process needs to ask relevant questions to help provide the best service, this allows C&J to collect contact information to follow up on leads.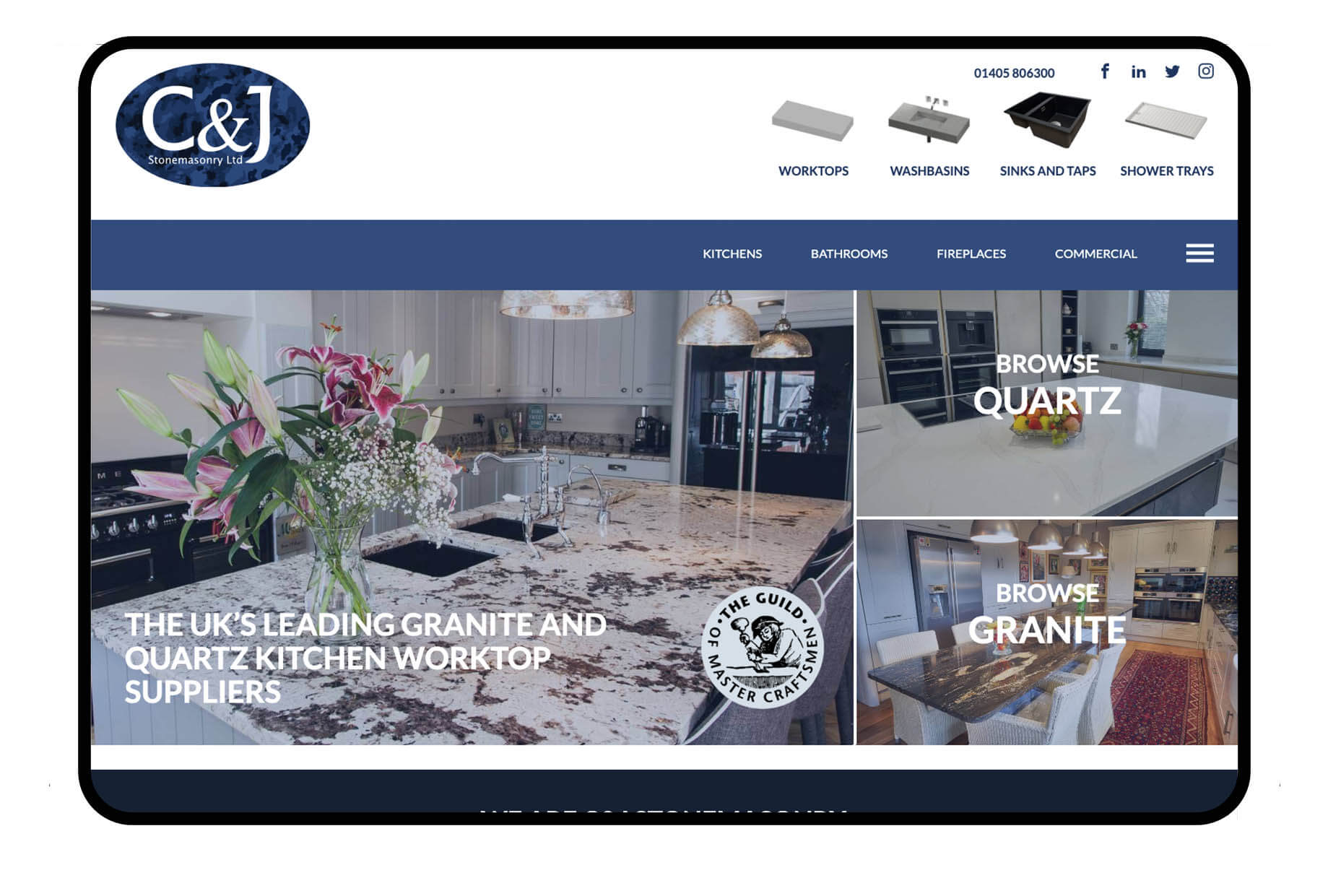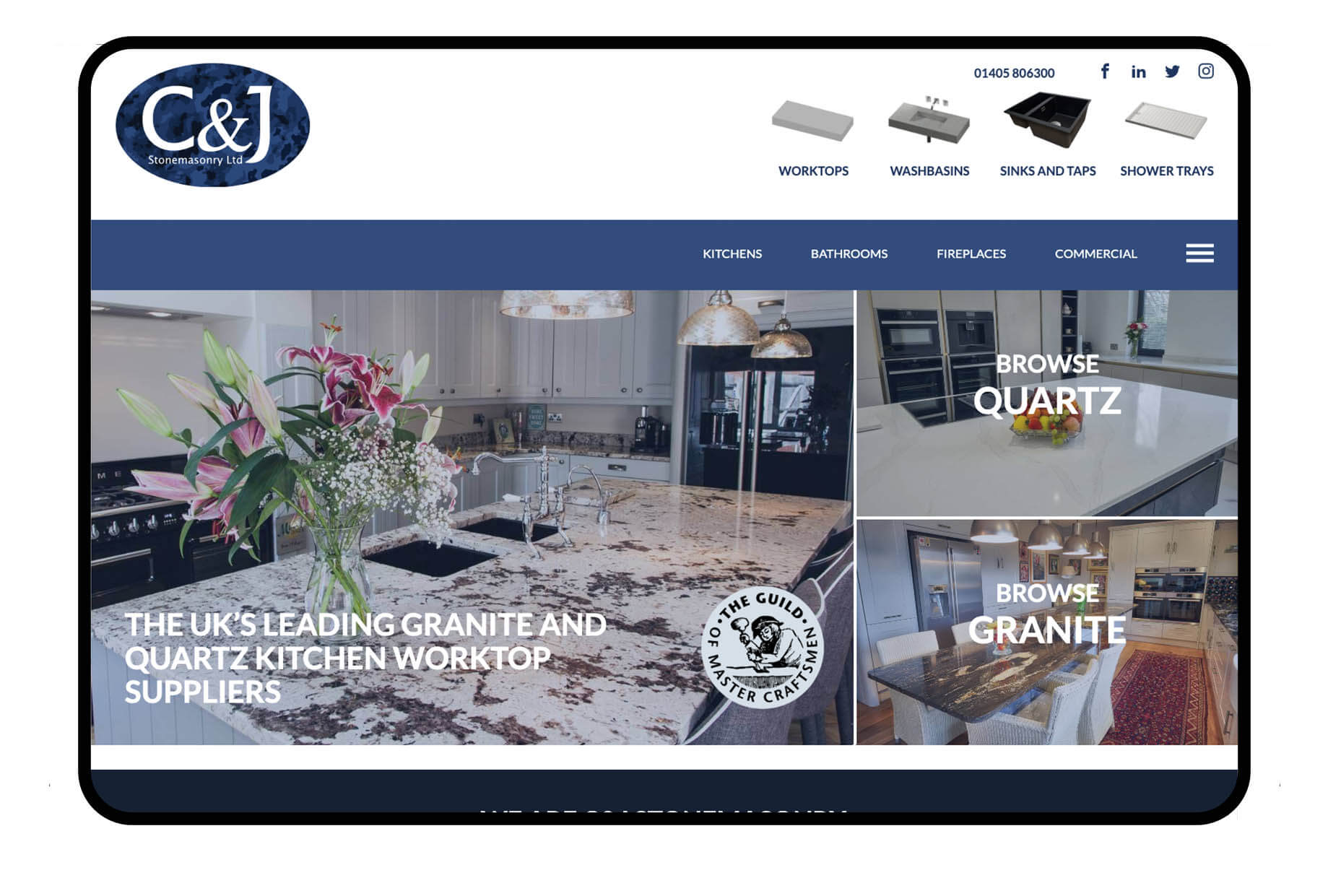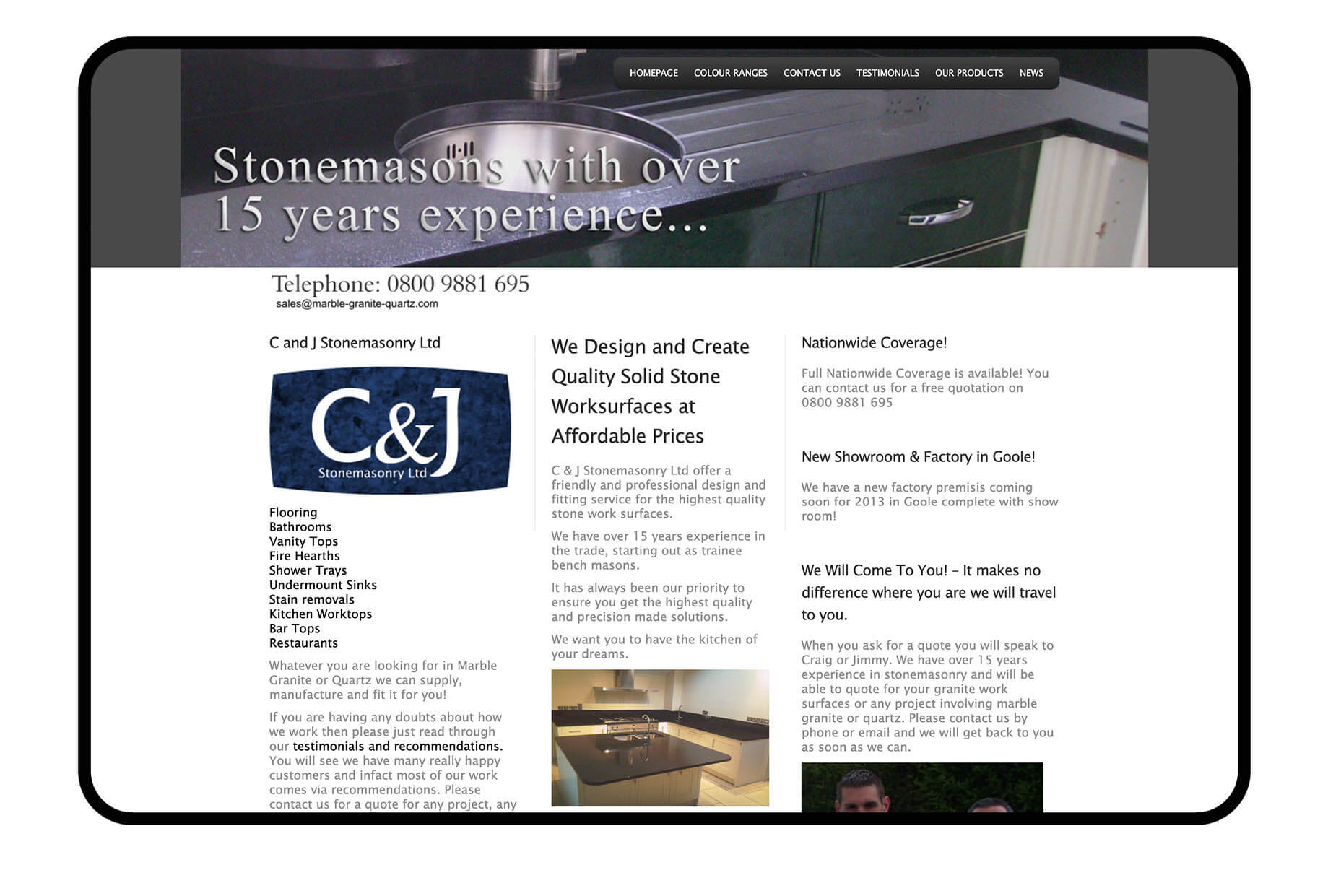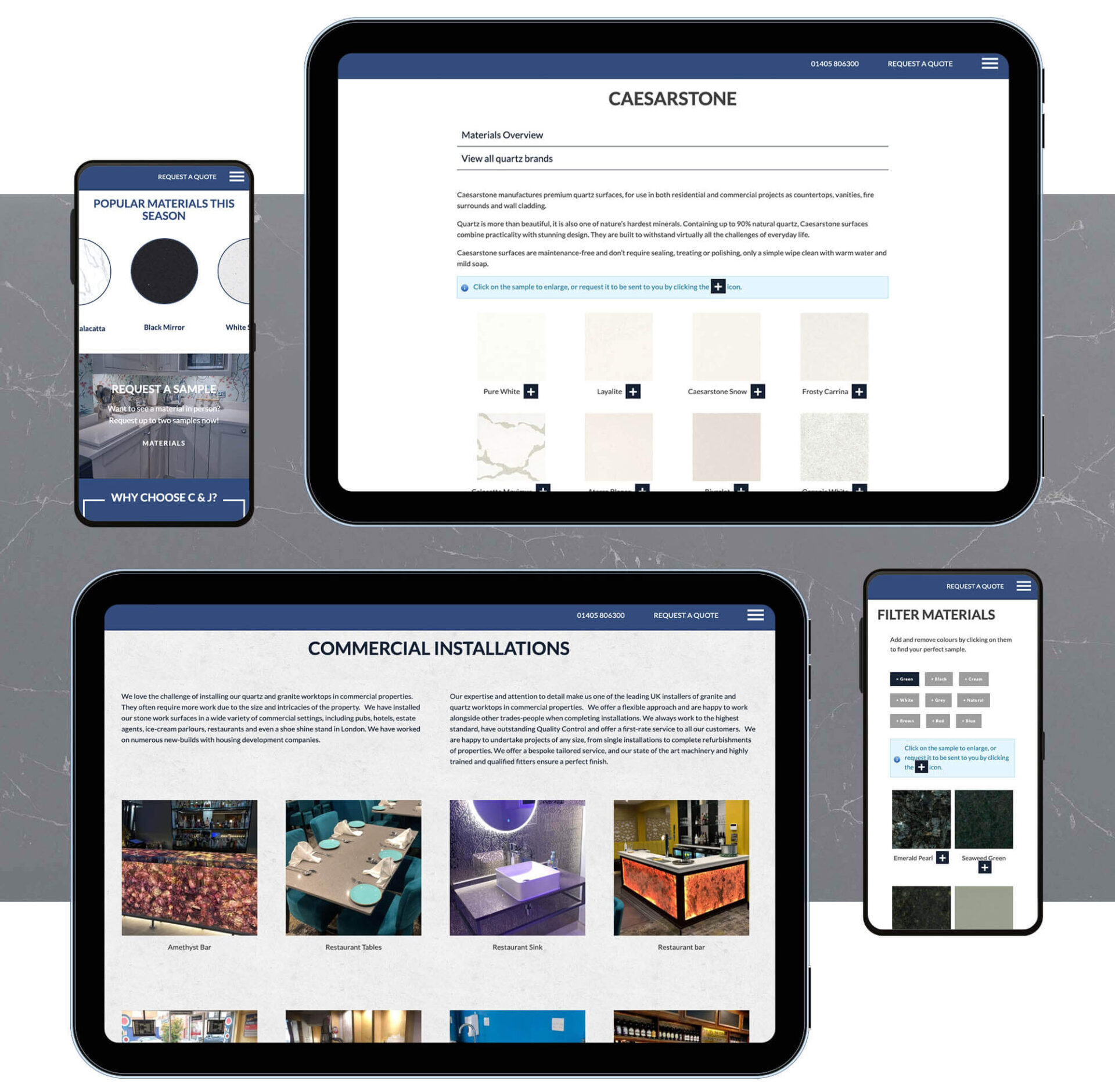 DIGITAL SERVICES
We work closely with the team at C&J to create monthly plans covering a variety of informative, helpful and relevant blogs and social media posts. They provide content for us to work with, and we carry out industry research to keep everything up to date and a accurate.
Google Ads is an important part of their marketing strategy, driving traffic to the website and reaching people who are looking for new worktops. The campaigns are targeted to reach the right people, using longtail keywords and compelling calls to action.
SEO
We undertake regular reviews of the website including the Google rankings, meta data and the content, to help us create our monthly marketing plans.
Over the years we have made significant changes to the website, including the addition of 'richer' content to give the visitor a better experience. We carry out keyword research to ensure that relevant search terms are included in the text and meta details.
We look for link building opportunities with other websites and social media platforms, to increase their web presence. This includes guest blogs on industry websites to increase their standing as experts in their field.
We continue to make ongoing adjustments to the website, adding content to improve the user experience, and to keep up with Google's ever-changing requirements. The website has recently had a new look, with updated content and an improved user journey.
Social Media
C&J have a very good following on their social platforms, attracting both domestic and commercial followers. The posts that we create show the range of work they carry out, share feedback from happy customers and share helpful hints and tips on choosing the right worktop, caring for worktops and even how we fit them. They get lots of likes, comments and shares, from customers and suppliers alike. As their social media managers we interact with people and businesses, developing relationships along the way.
We write regular blogs to go on the website, covering a variety of topics which involve research and a good understanding of the business. We work closely with the whole team at C&J to ensure that we share relevant content that people want to see and will find useful.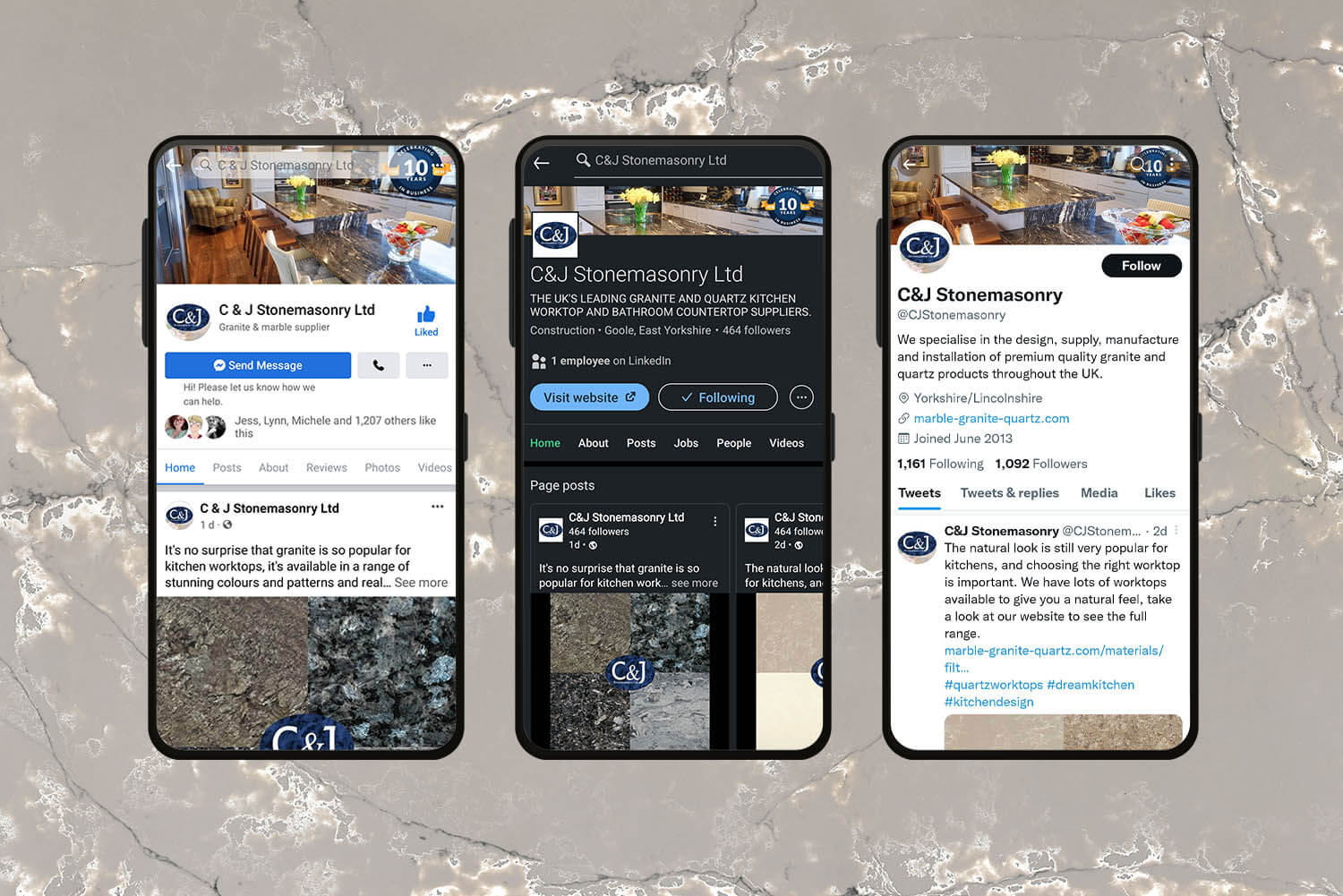 Creative Services
We have an ongoing relationship with C&J to carryout design work to help with their marketing. Since we have worked with the team for nearly 10 years, we've developed a strong brand across all marketing materials. We have been tasked with projects from large company banners and brochures to magazine adverts and photography. We also create social media graphics for them, to ensure a consistant look across all platforms.
Graphic Design
With an ever-growing knowledge of the company we can work confidently and efficiently with all the design projects C&J throw our way. We have worked on many different design projects such as large scale banners for football grounds, company brochures and magazine adverts. Since we have a close relationship with C&J we understand their brand and ethos fully, meaning that we can quickly discuss any design requirements and produce a quick turnaround ready for print.