Web Services
Websites
Our websites are different – not only because we are skilled at designing, building, and marketing them, but also because we take the time to understand and work with you in a way that many website companies do not.
We provide imaginative and effective marketing solutions to help our clients really grow their businesses. Our team will work with you and your team to understand your business and your objectives so that we can come up with highly relevant and engaging activities that will achieve your company's individual goals.
Whether you're in need of help with just one specific element of your marketing, or a wide ranging, all encompassing strategy, our team of in house specialists are here to help. We are experienced in working with all sizes of companies in a wide range of sectors, from start ups with a limited budget to large companies and organisations in need of an injection of fresh ideas.
Our Process
01
Planning & Research
---
Identifying the project's aims, objectives and parameters before design is essential for a successful website. These factors will shape the design, and how we plan for the user to interact with the site.
02
Website Design
---
The design of the website is less about shapes and colours, and more about communicating your brand, company ethos, aiding the user experience and achieving the project's clearly defined objectives.
03
Website Development
---
Once the design concepts for all the key pages and elements have been agreed upon, work begins to develop those composition layouts into something that works on the web, complying with best practice standards.
04
Content & Optimisation
---
Content is king. Both for your users and search engines. Work to write compelling copy will have started soon after we have been awarded the contract, at this point we build out the needed pages and sections.
05
Website Launch
---
We have a number of strategies when releasing the website to the public, depending on if the site is a brand new web property, or if it is a redevelopment. As a minimum, we now get to work on our 20 point 'Go Live' plan.
Responsive Websites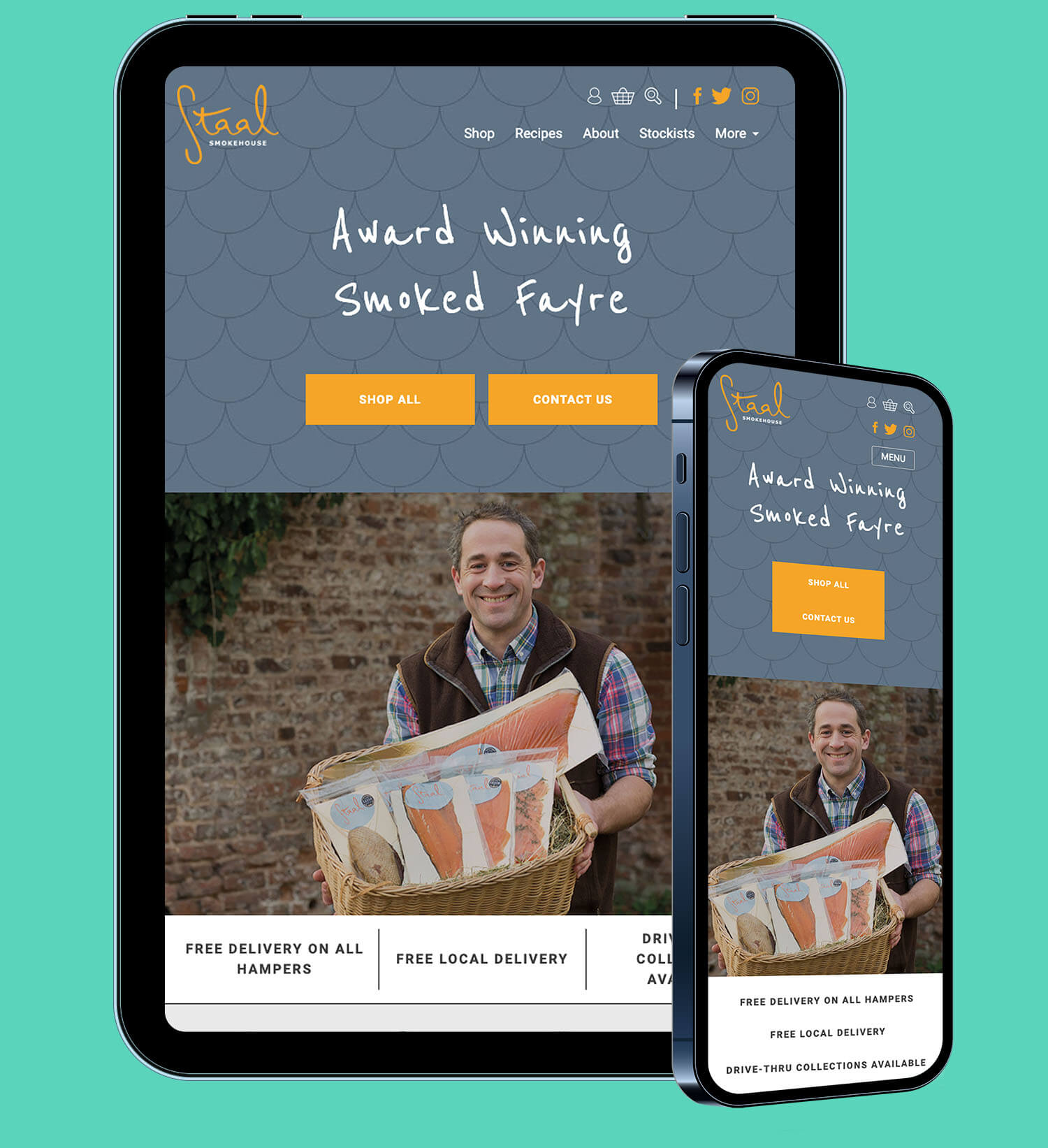 All our websites are mobile friendly. Some of our websites are designed using 'mobile first' methodology.
A public facing website needs to be viewable on devices with screens of all sizes, responsive design adapts to the space available. It is an absolute requirement, regardless of the sector or target market.
To make projects useful on mobile devices, they all follow these main principles, our responsive websites:
Do not hide content from smaller screens. We know that regardless of how users are accessing your website (be it on their phone or their desktop computer) they all need the same information to be able to motivate them to use your site in the way you hope.
Prioritise load speed. Mobile devices are not just limited by their smaller screen, but also potential by connectively. Loading lots of unnecessary code or serving high resolution images
Do not embed text within images. Images shrink down to fit the viewport width, lots of text embedded within images are not accessible to screen readers, and become inaccessible to all users if scaled down small enough.
E-commerce Websites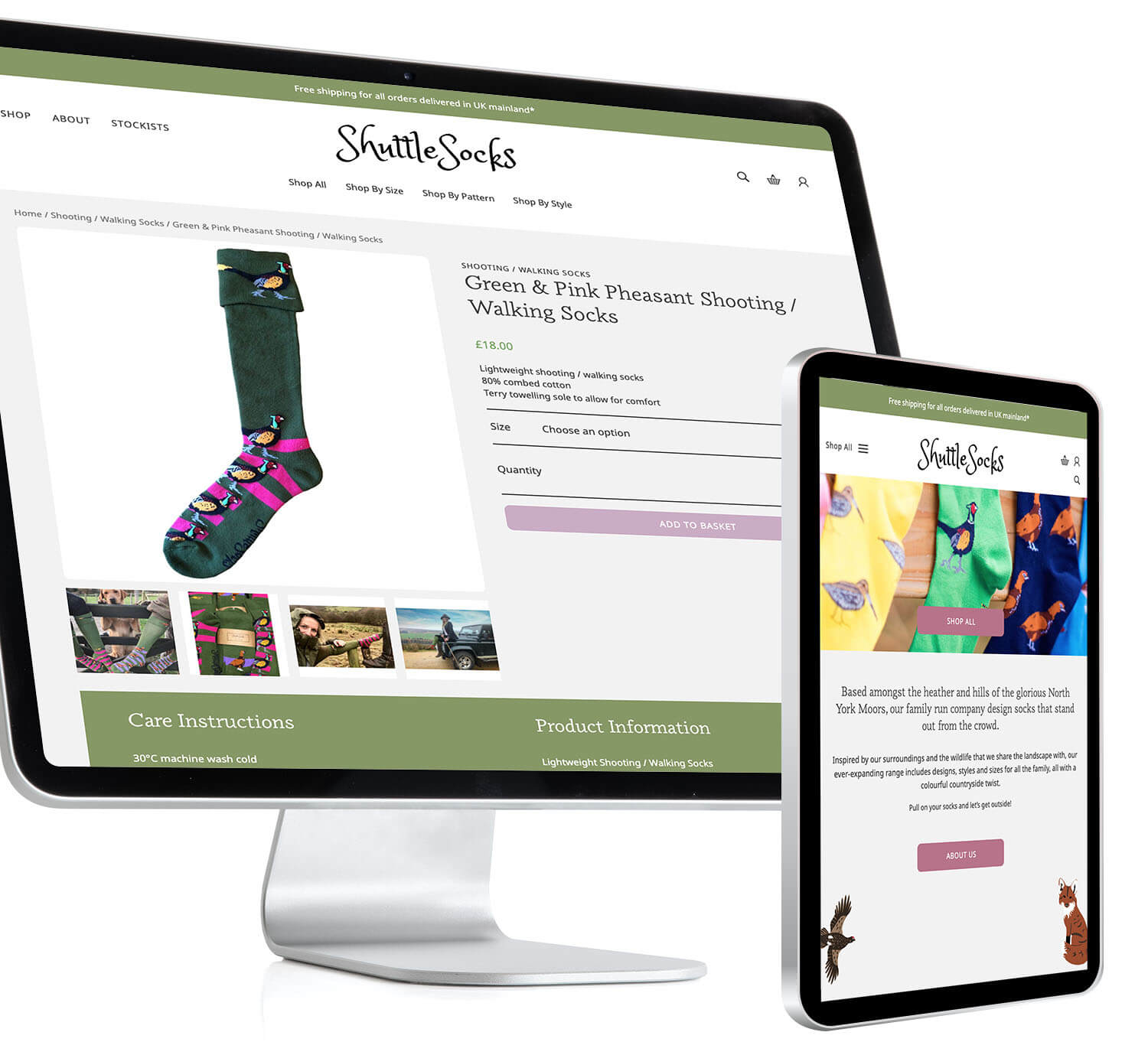 All our e-commerce websites are optimised, secure and designed to provide a good return on investment.
We have helped scores of local and national businesses harness the power of WooCommerce, Magento and Shopify to sell online. We can help you identify which sales platform will be best suited for your needs and develop a solid 6, 12 or 24 month plan to ensure a ROI.
We can help you get e-commerce right, avoiding common missteps and pitfalls like:
Costly maintenance packages quickly absorb all the gains made from new sales. We give solid advice to ensure you are not over provisioned with features provided by more complex software packages that require lots of active patching, maintenance and manual upgrades.
GDPR headaches can arise as e-commerce websites capture and retain lots of identifiable data. Our secure, PCI compliant hosting, and optional auto archiving of customer data can prevent large scale data breaches, and absolve you of related red tape.
Unnecessary platform migrations are required when it becomes apparent mid-term that the development work carried out has been targeted at the wrong platform. We have a full consultation to discuss your mid to long term aims to ensure the right platform is chosen at the outset.