Case Study
– Website Design & Development
– Digital Strategy
– Marketing Strategy
– Hosting
– Google Rankings
– Graphic Design
– Social Media
– Email Marketing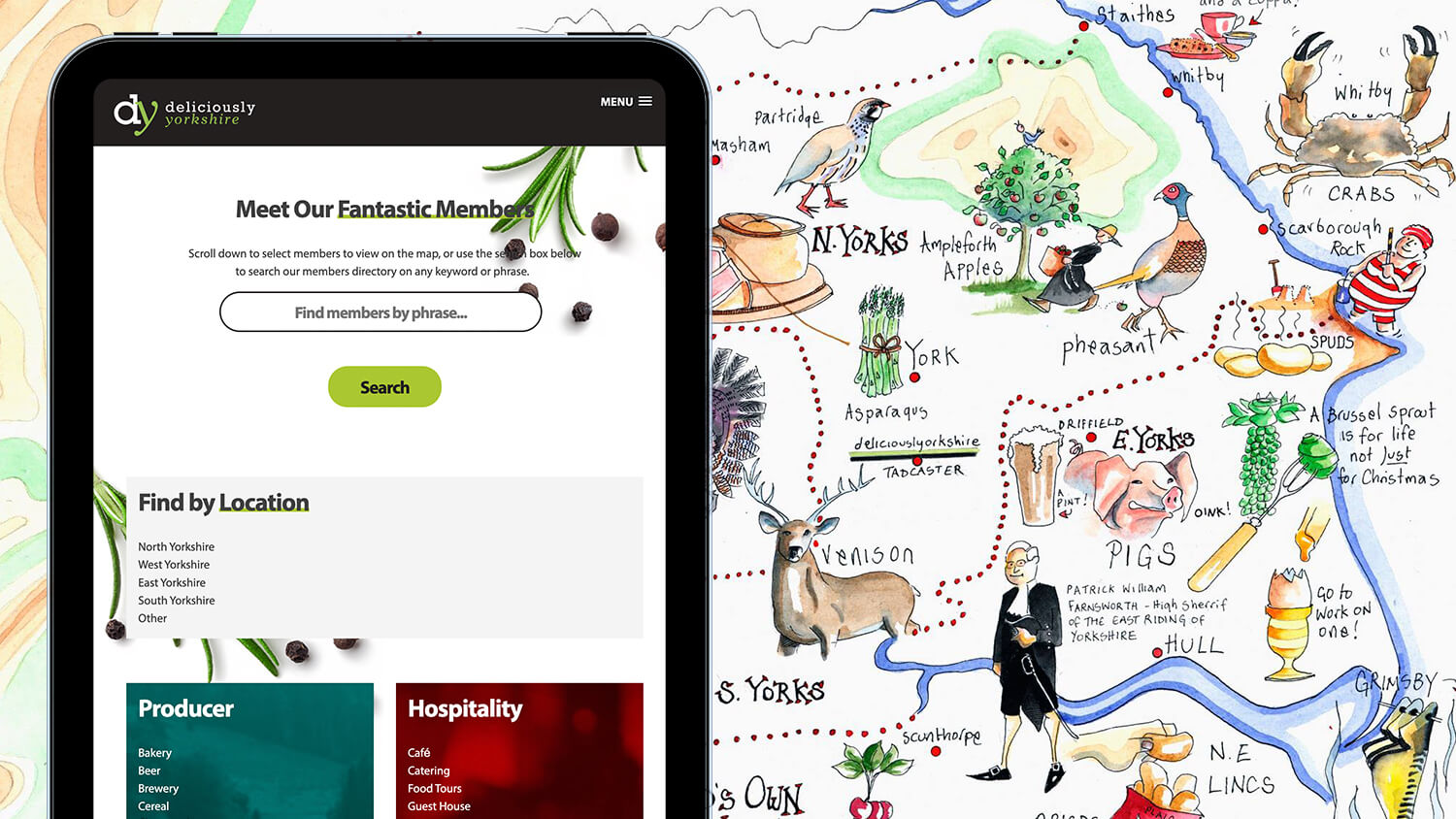 Our relationship with Deliciously Yorkshire began in early 2018 when they were looking for an agency to design and develop a new website for them.
After experiencing first hand the passion that the organisation has for promoting Yorkshire food and drink, we've developed a close working relationship with them and in 2020 we became Patron Members. Our current work with them includes working closely with the management team and board of directors to help them manage and evolve the website, as well as working on their high profile annual Taste Awards.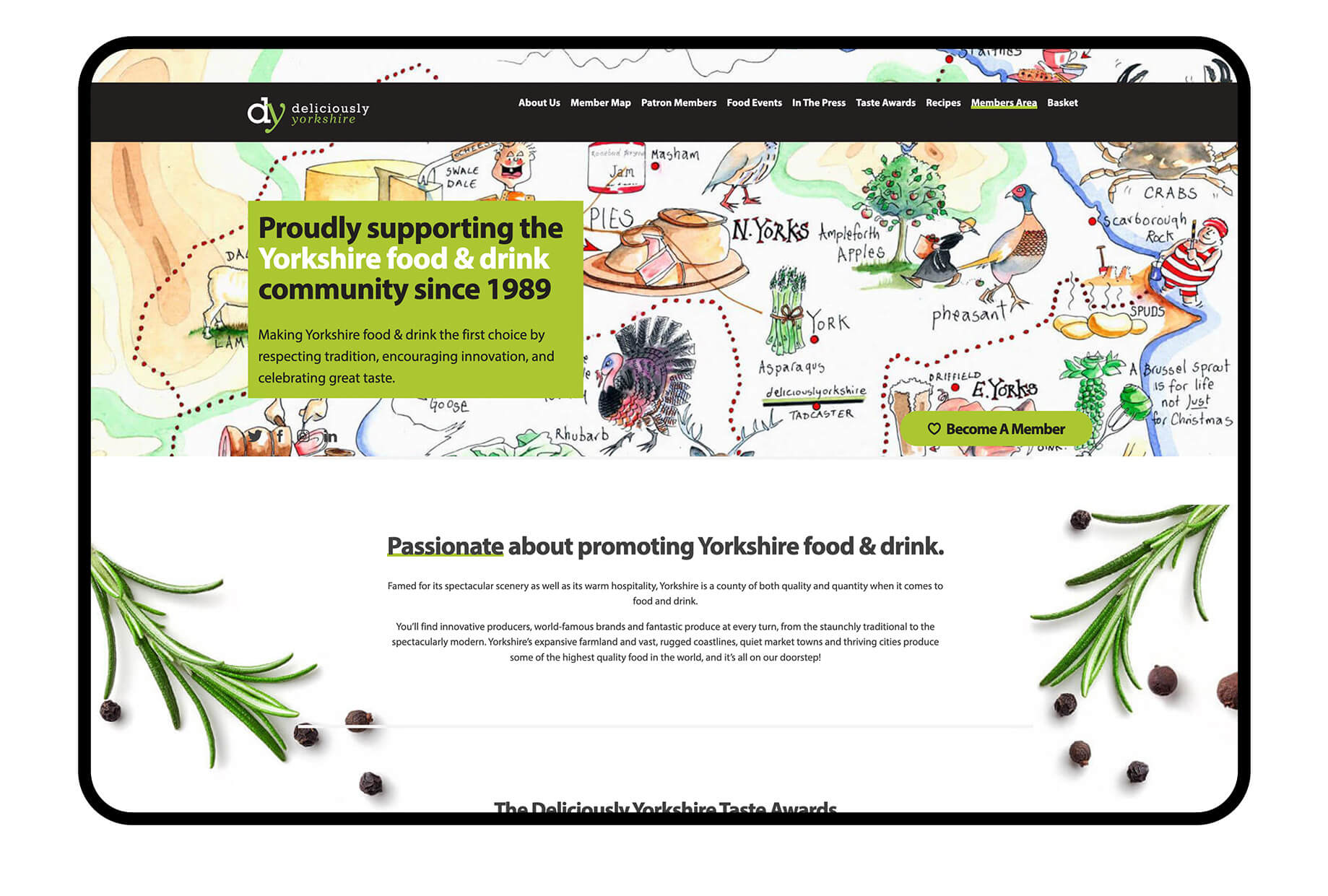 Web Services
The Deliciously Yorkshire site has a large site map with lots of differing content types. Requirements range from showcasing members to selling admissions to events to sharing recipes.
Website Design
Deliciously Yorkshire approached us to help them create a website with new functionality that catered for multiple member listings with a fully interactive map. With brand guidelines provided by the client, we had a clear vision of how the brand of Deliciously Yorkshire should be used, the design was an evolution of their brand to include more food related photography/elements to give it a more interesting look and feel. We wanted the website to be inviting yet very informative for DY members and other visitors who come to the site.
Interactive Maps
The members section of the Deliciously Yorkshire site needed a real overhaul to prove genuinely useful. For customers, suppliers and the media to quickly find members was a key objective, but to explore all that Yorkshire has to offer, we need to suggest relevant businesses by location, sector, food type, business type etc. The system we built also allowed for a further expansion where businesses can add themselves and after verification be shown in all the relevant areas automatically, drastically reducing admin requirements.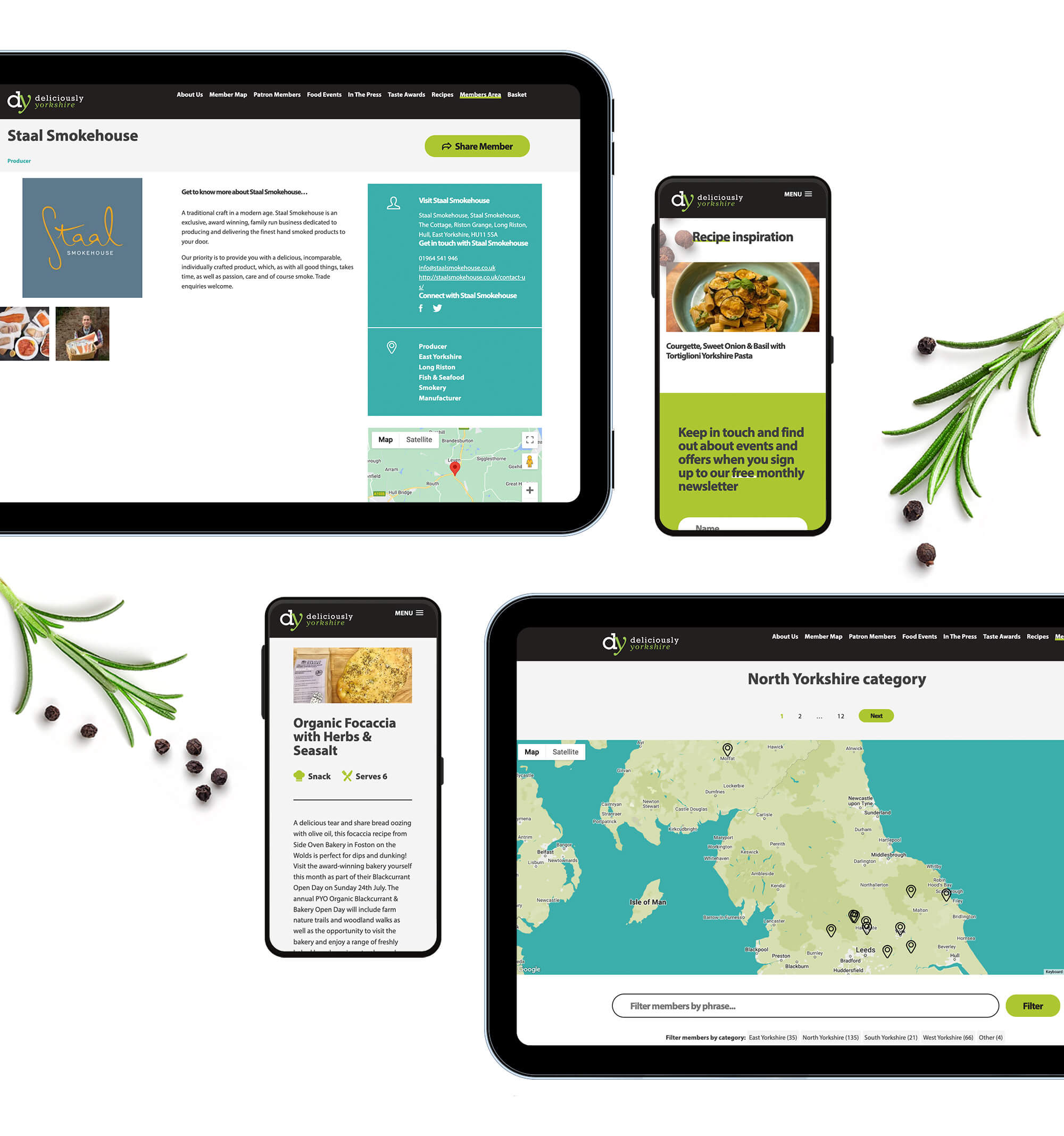 Creative Services
Over the years we have helped Deliciously Yorkshire expand and evolve their brand with graphic design projects.
Graphic Design
We have worked with Deliciously Yorkshire on various graphic design projects, including the creation of materials to help promote the biggest event in their calendar: the annual Taste Awards. For this we have created promotional flyers and a sponsorship booklet to work alongside the marketing strategy for the campaign.
Email Template
We were asked to create an email template for DY to use for their monthly member newsletter. They wanted a smart looking refresh to their current design, which would be more in keeping with their branding. They envisioned a menu at the top, linking to their website, and a 'what's included' section with anchor links to the sections within the newsletter. The idea was for the newsletter to reflect the website so people would immediately link the two and be able to go from the newsletter to the website for more information on certain articles.