Case Study
– Website Design & Development
– Branding
– Hosting
– Photography
– Graphic Design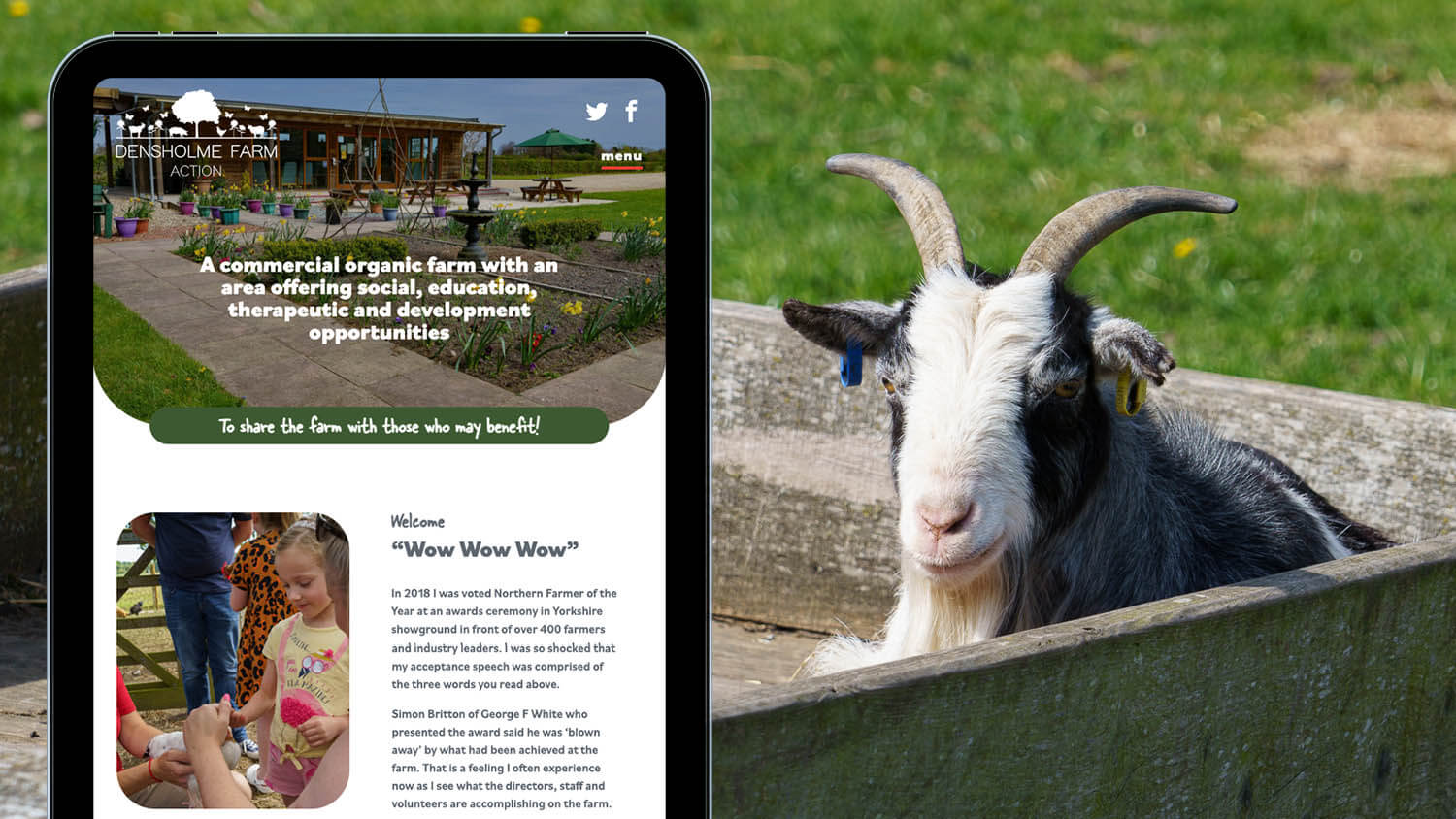 Densholme Farm is a commercial organic farm with beautiful areas offering social, educational and development opportunities for the community.
We were approached by Densholme Farm to work with them to redesign their brand and website presence. We worked closely with Densholme to refresh their logo and website design and development so that they could easily update the information when needed. We also worked creatively on the project by capturing some wonderful photography of the farm and designing a bespoke map for visitors.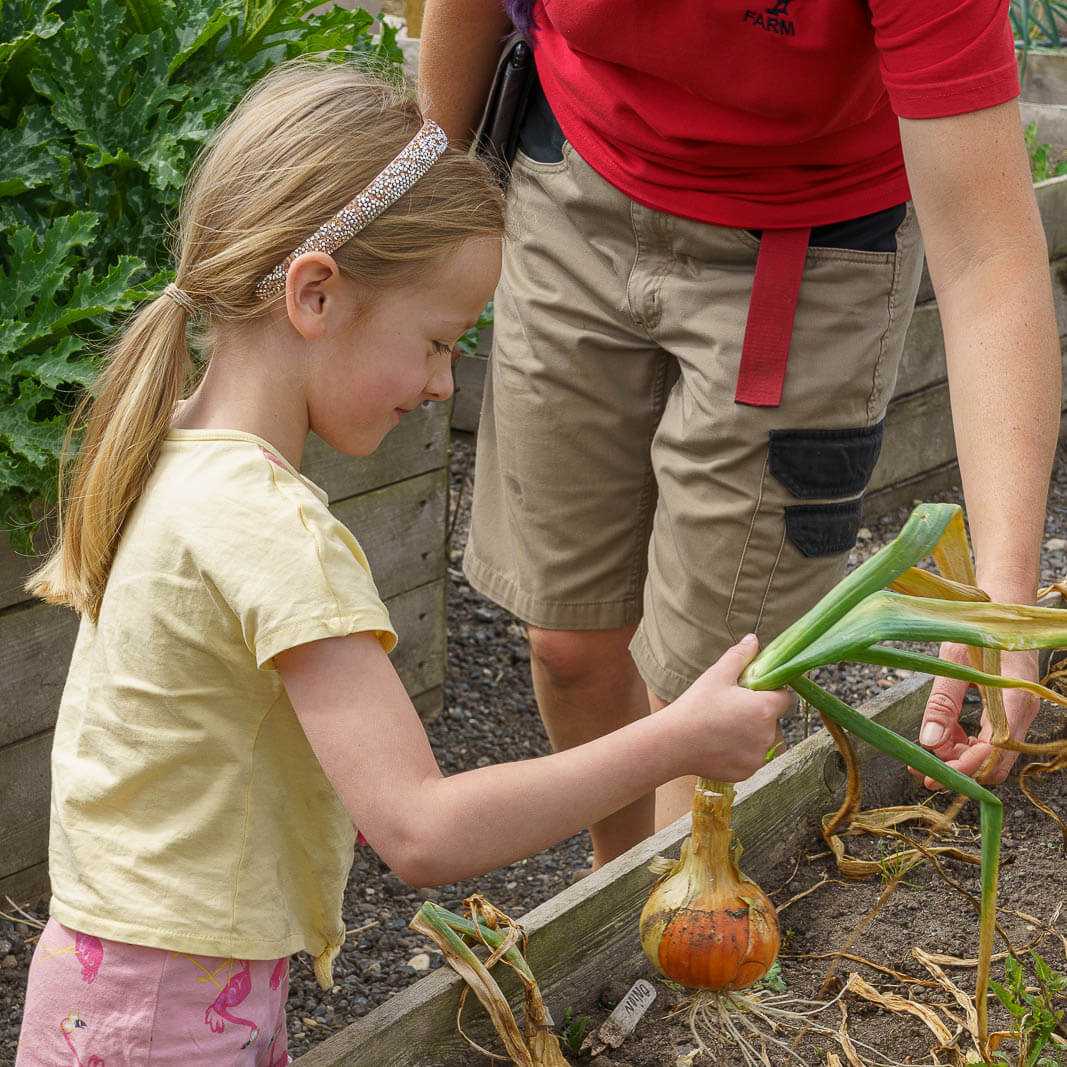 Web Services
The Densholme Farm website was an exciting opportunity for us to work on a project that really makes an impact to the local community. We wanted to ensure that the design and development of the website was not just visually appealing, but genuinely accessible to all their users.
Website Design
Densholme Farm needed a new website as theirs was dated and hard to manage. We had discussed the requirements needed for the site and functionality and design features they wanted to include before starting any work. The design of Densholme was created to be fun and inviting for all the different audiences, yet informative and easy to navigate. Farm animal illustrations were also created to complement the website and brand ethos, we wanted to design animals that were child friendly and almost cartoonish.
Accessible Web Development
'Accessibility tools' like style switchers (text size, inverted colours etc) are now mostly obsolete. Browsers can be configured by those with accessibility requirements to aid them navigate the site. It is much more important (read useful) to ensure the site is accessible on a fundamental level: are proper tags being used to outline and describe the content properly, can the navigation be easily accessed and read aloud by screen readers, can elements on the page be easily clicked, is the wording on the page easily readable.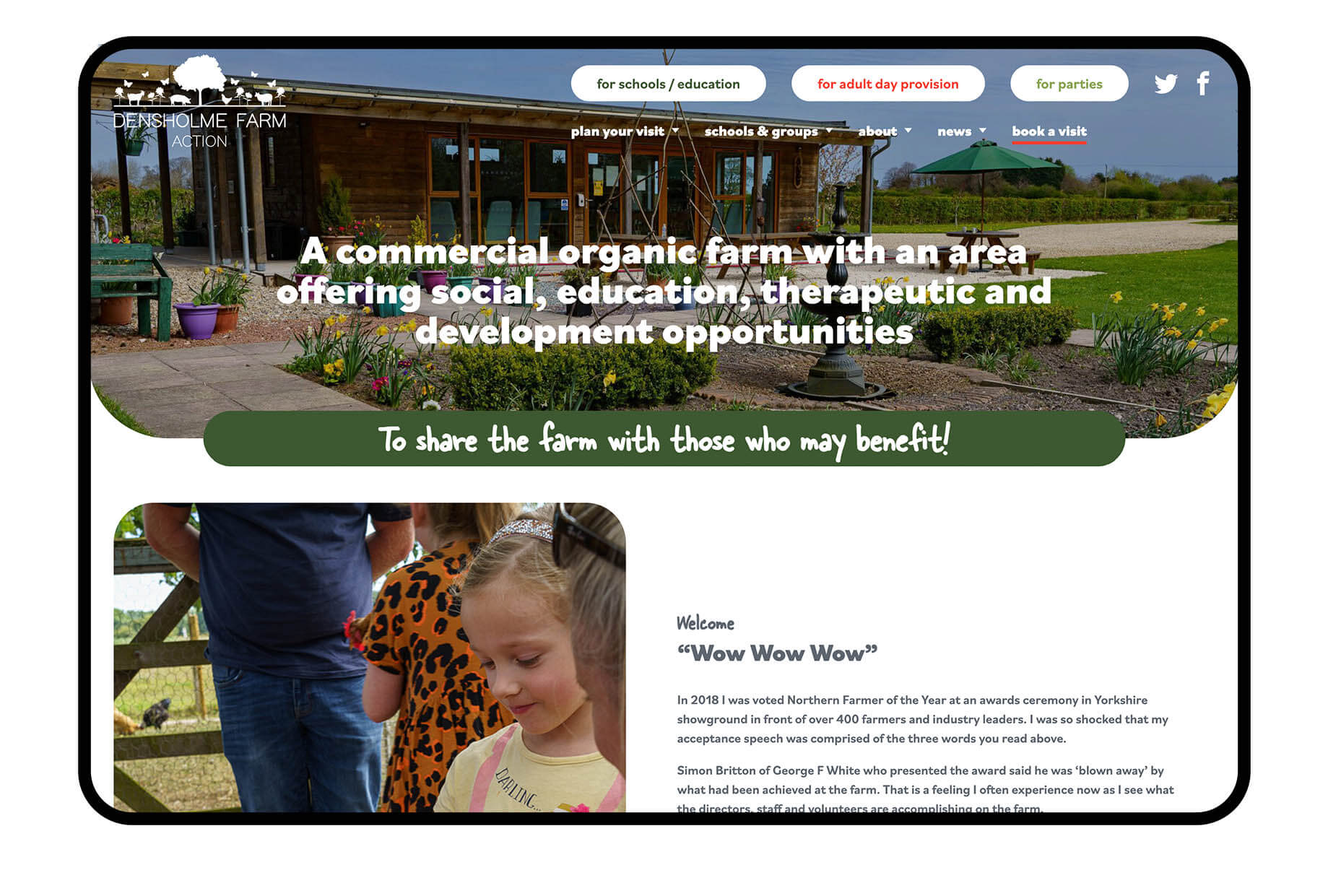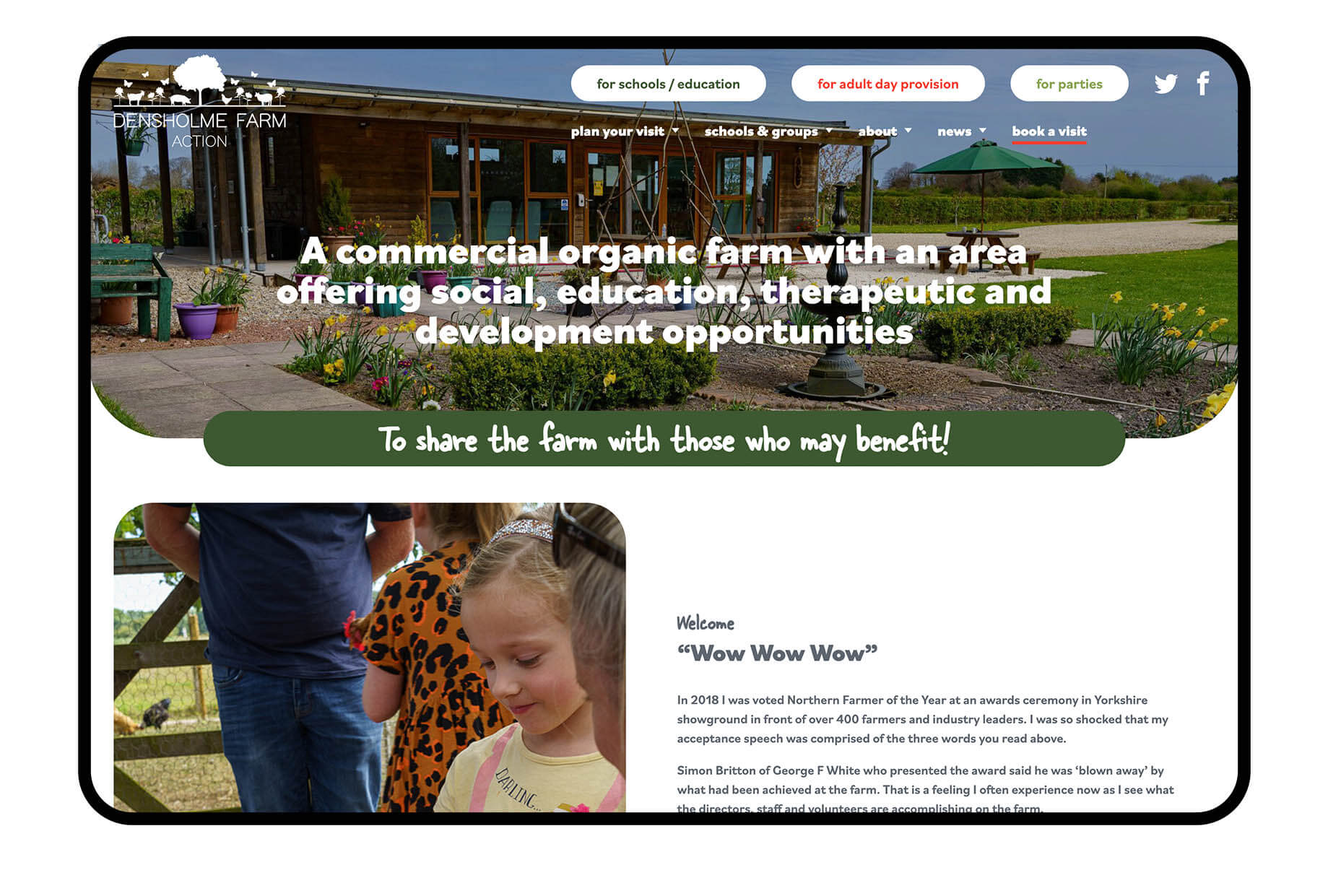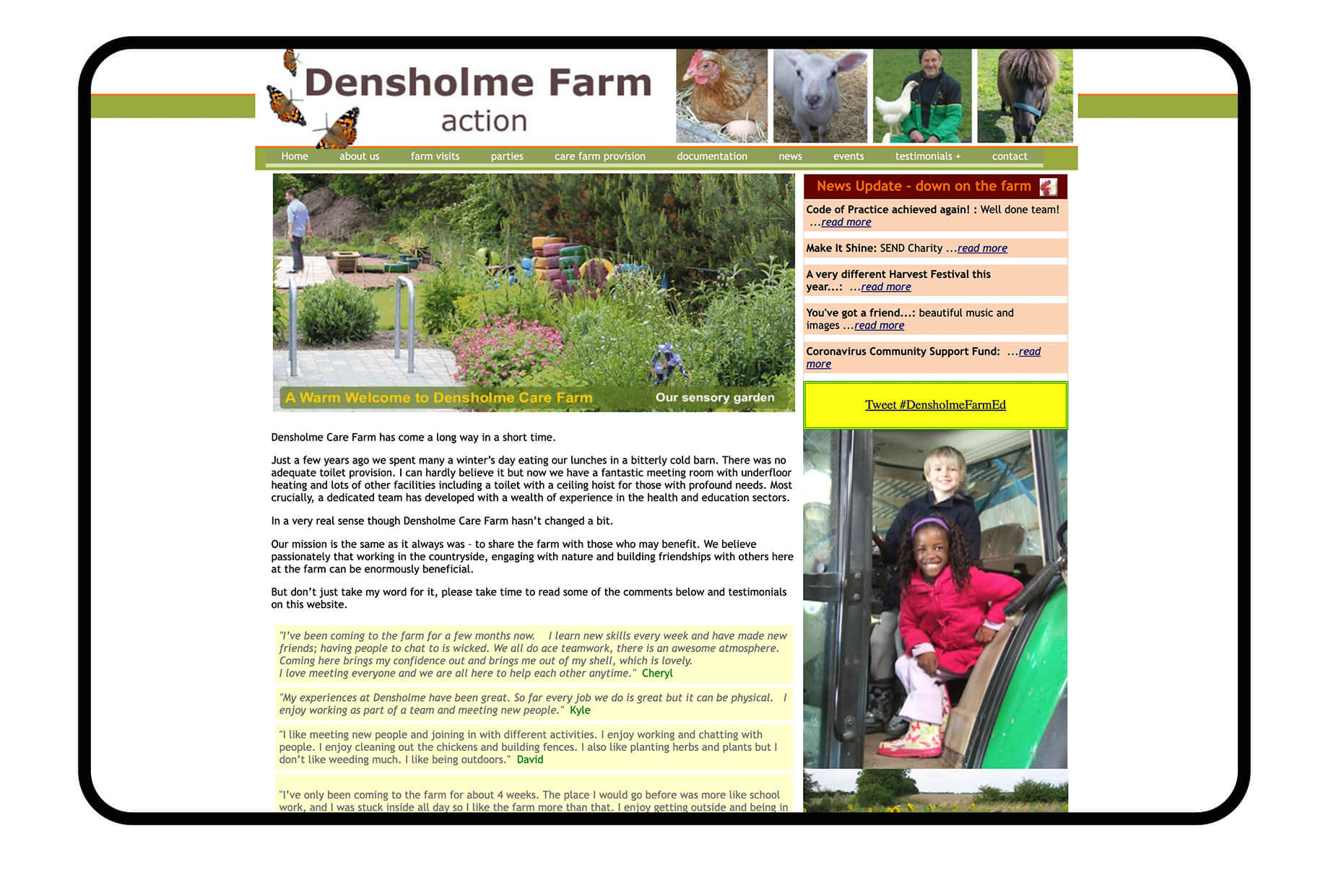 Creative Services
Initially we worked with Densholme to refresh their logo as it was very outdated. We then created some friendly illustrations to complement the website design, as well as commercial photography capturing what Densholme offers to the community, and a site map.
Branding
When Densholme Farm approached us for a new website, we noticed that their current logo on the website was highly pixelated and used photos instead of vectors. After a brief discussion, they had agreed that it was best to redesign their current logo. Since we didn't go through a full branding exercise we create a small brief with the client to see what they were looking for in a new logo. We had agreed that the logo would include farm animals and nature to represent the farm as well as a warm and earthy colour palette.
Graphic Design
Whilst the website was being built and populated with content, we were asked by Densholme if we could create a vectorised illustration map of their farm. We were invited to the farm to take an in-depth tour whilst a rough sketch was drawn, we then created the map on Illustrator using a combination of aerial photographs and the sketch to produce a simple yet informative map. We also added in the animal illustrations we created for the website so that it was on brand.