Case Study
– E-commerce Website Design & Development
– Hosting
– Photography
– Videography
– Video Editing
– Graphic Design
– Exhibition / Large Print Design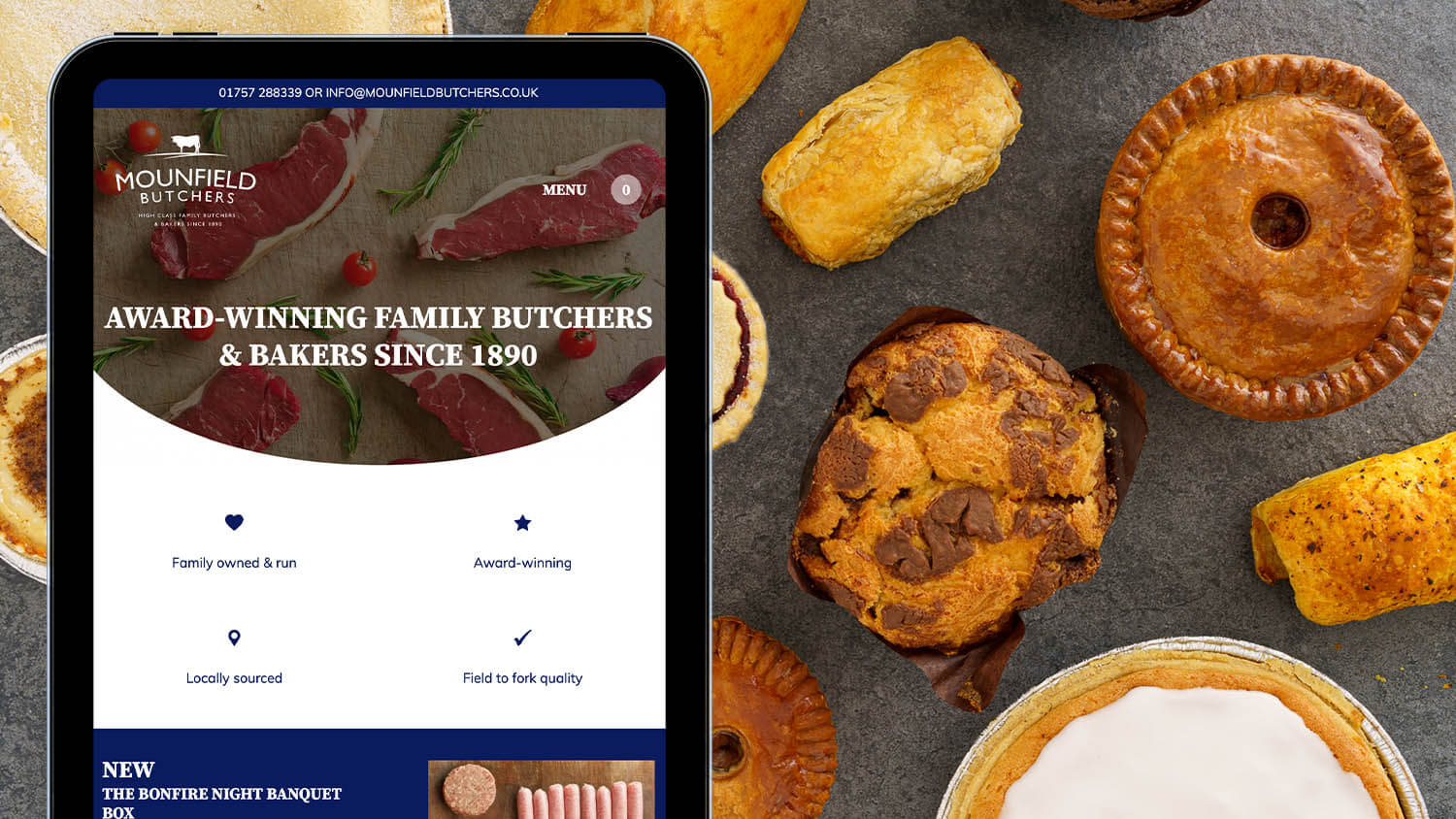 Mounfield Butchers approached us to help them improve their online presence and build them an ecommerce website that would allow them to accept orders from customers throughout the UK.
We worked closely with the team at Mounfield to understand their customers, and their requirements, as well as the business growth they had planned for the next few years. We built a website that will expand as the business grows, is easy to edit and update, and that looks good. The website is easy for customers to navigate, and offers a behind the scenes look at the business as well as an online shop.
We have worked on the product and staff images, and supplier videos used on the website. Our design department has worked on marketing materials used to promote the business at events they attend.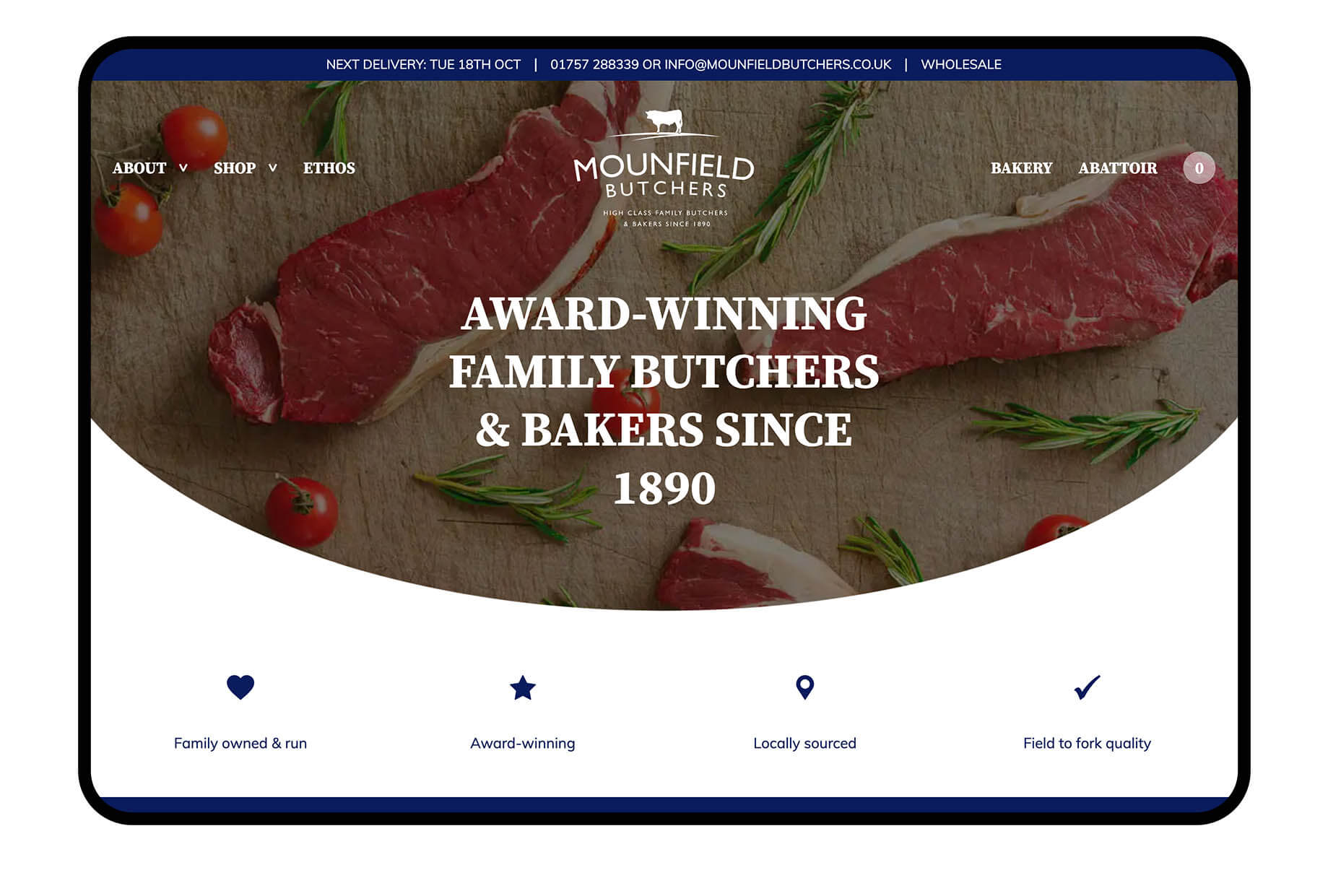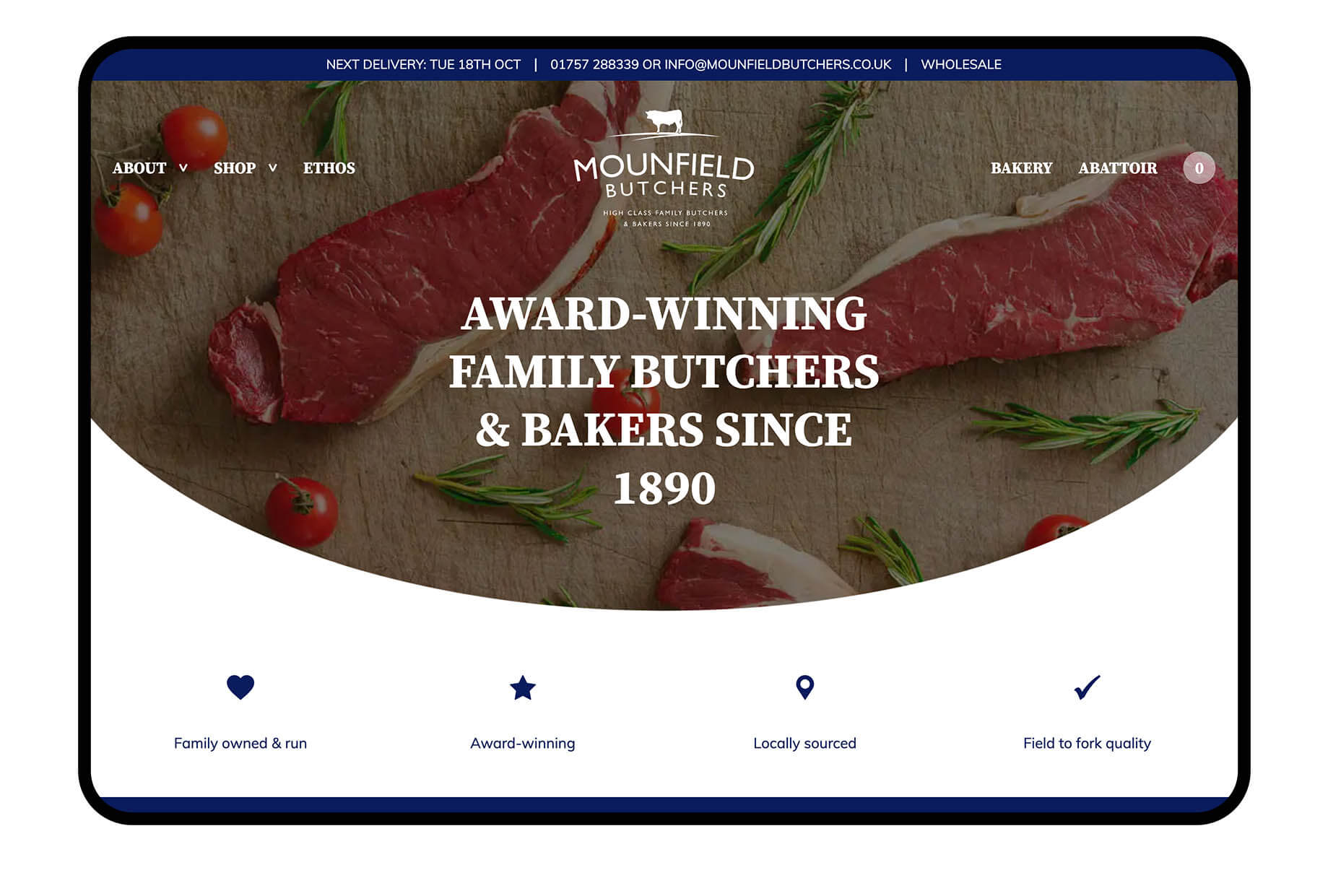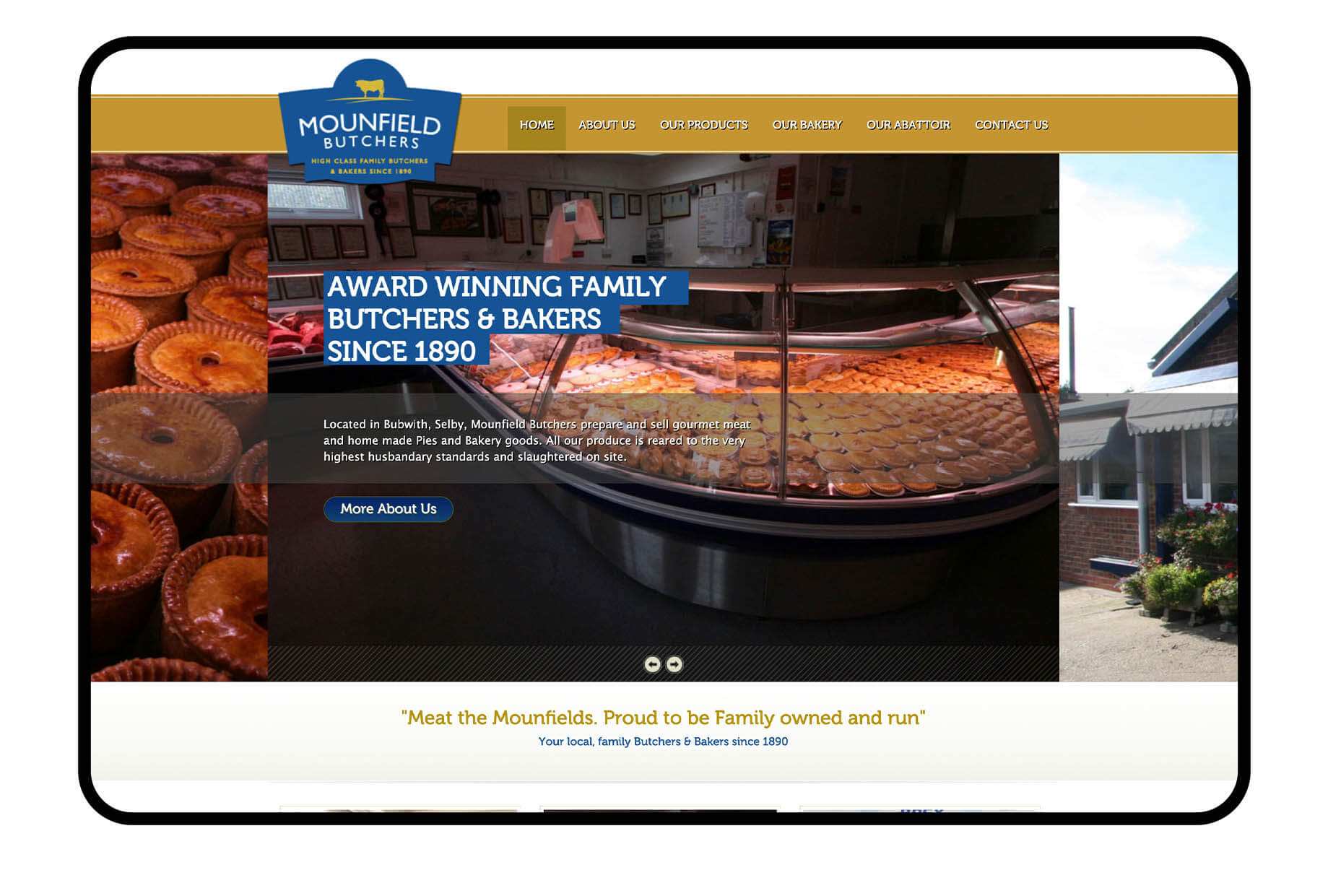 Web Services
Selling perishable items online comes with inherent complexity. Vital processes need to be put in place to quickly dispatch items, manage stock control and inform customers accurately when to expect delivery. With Mounfield's ecommerce site, this holds especially true. Relatively high value meat boxes etc need to arrive in great condition, on time, ready for the chef of the house to transform the contents into a delicious meal!
E-commerce Design
To meet these requirements we designed Mounfield's ecommerce site to be easily maintained by our client (ensure stock is available and in great condition), and easily navigated by the user (ensuring they are quickly informed of the next delivery date and kept up to date throughout the order cycle). Good photography is also essential for an ecommerce site. If the user does not believe the pictures (too many stock images) or cannot see the product they are paying for, the conversion rate will suffer.
E-commerce Development
The ecommerce site can handle multiple inventory tracking systems. For some products, the website is the "source of truth", holding the stock figure. Other products are constantly available and still others can be updated by third party applications to bring in correct figures from external sources. To aid conversions, and keep users happy, we created a live delivery checker that informs the user of the exact date they can expect delivery, evaluated in real time.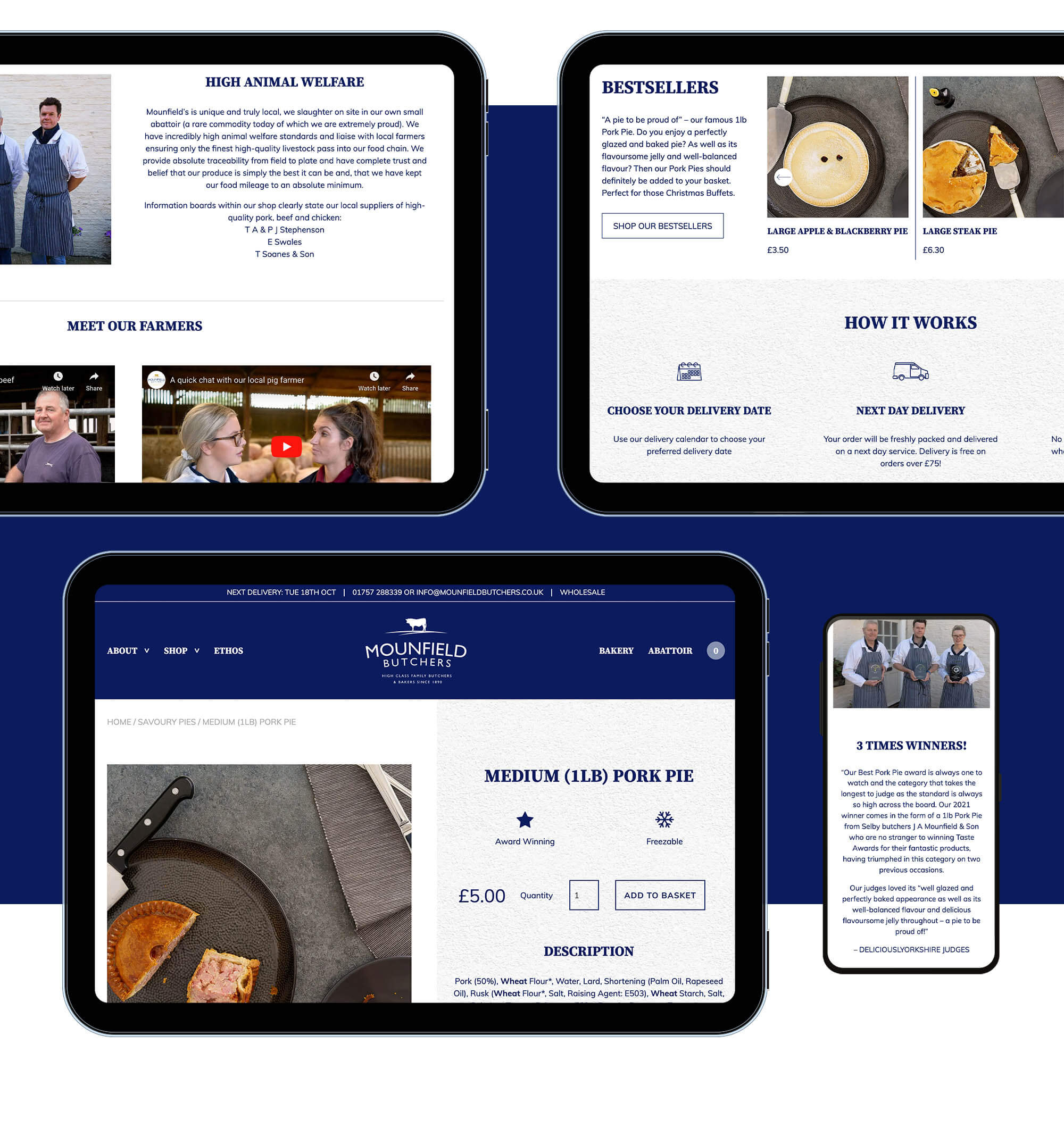 Creative Services
We have worked alongside Mounfield Butchers to create designs to complement their brand moving forward after the new website refresh. This includes: business cards, exhibition stands, flyers, vouchers and Christmas price lists. For the new website product photography, portrait photography and informational videos were also captured and edited to present key information about the company and their ethics.
Graphic Design
Mounfield Butchers needed some new promotional material for different food events they were attending. Whilst the website was being build and content added we used the new design style from the website to create business collateral to support the new look and feel for the brand. The exhibition stands were to be kept clean and simple and highlight core messages of the company as well as key services. As well as promotional design, we have worked with Mounfield to create a bespoke price list for Christmas orders as they were previously using Word to create the document. By using a custom design we were able to achieve an eye-catching and informative document whilst keeping it on brand.