Case Study
Bert's Pizzeria
– Website Design & Development
– Woocommerce & Tevalis Integration
– Hosting
– Photography
– Menu Design
– Graphic Design
"We have made a lot of adaptions to our menu, websites and stationery since we started with Holler Marketing. They have been fantastic from start to finish, their support is genuine and have your best interest at heart. We are always really pleased with the ideas and designs they come back with, they keep us fresh and up-to-date with the current market."
Ellie Mewburn, Owner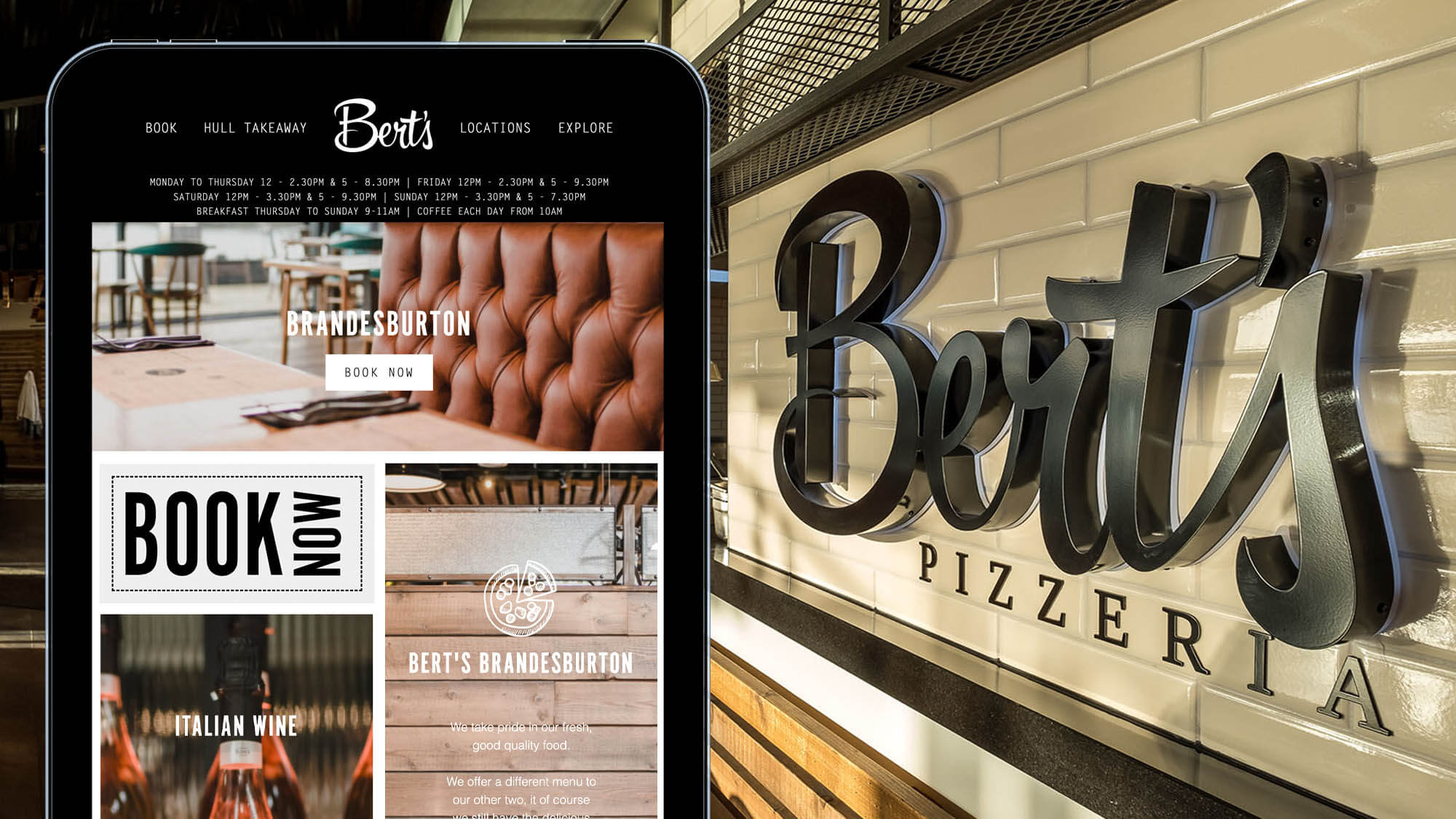 Bert's Pizzeria is a family run pizza and gelato restaurant group. They are passionate about authentic Italian food, and put their heart and soul into all of their dishes and service.
In 2017 the owners of Bert's were looking to update their menus, and approached us for help. Following the creation of the new menus, we worked with Bert's to design and develop a new website using their updated branding. Since then we have also worked on various printed materials including a completely new style of menus, photography, large outdoor banners, and promotional materials for opening of their new restaurants in Hull.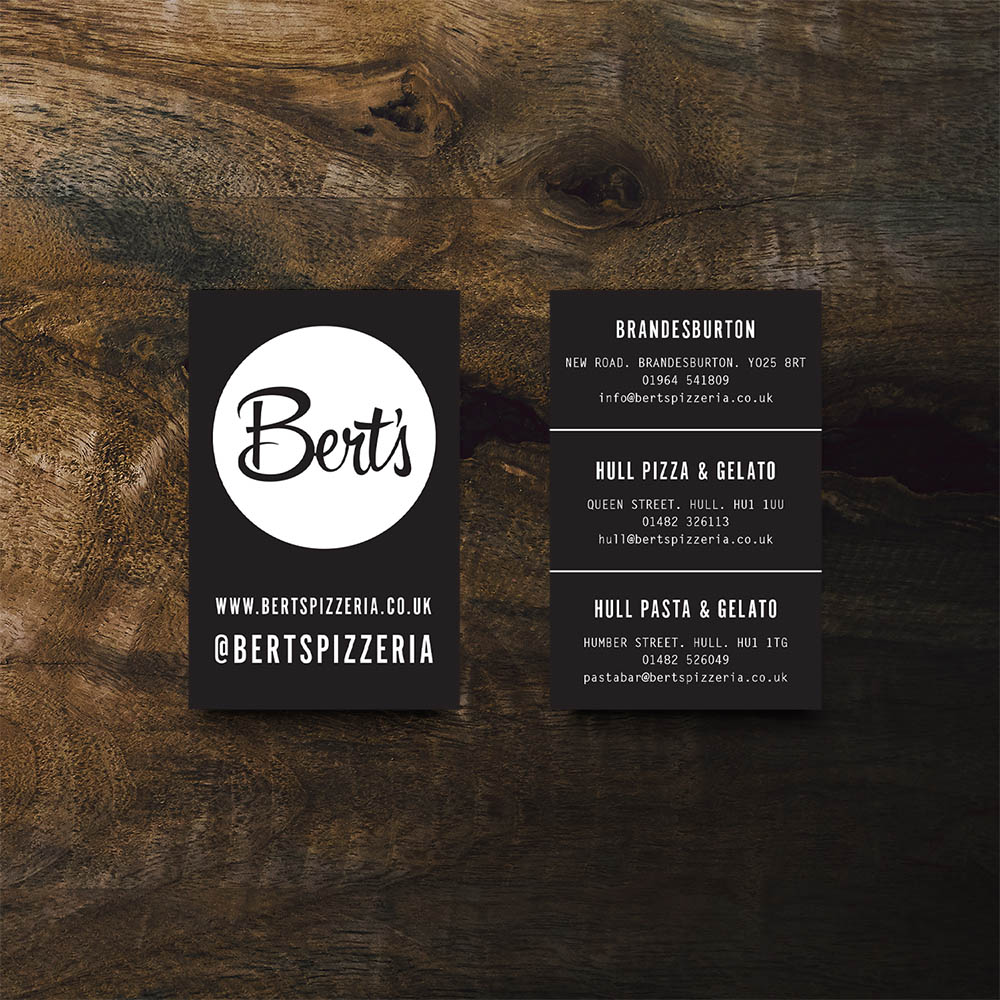 Web Services
Bert's wanted a fresh look for their website, and for it to be built with a Content Management System that they could use themselves to update the content going forward. They already had a strong brand, and the restaurant has a modern, stylish, informal ambience, and so the website design had to incorporate these elements. Bert's is a growing business with lots of ideas of new directions that they might go in, and so it was important for the website to be able to adapt.
Website Design
Bert's old website wasn't on brand with their company ethos and look and feel. We started the project by having detailed discussions with Bert's owners to understand what they liked and disliked in website design in general, and to establish what was important to them for their own website. Since Bert's didn't have a strong visual brand at the time, we used the website design to start the process of a brand evolution.
Woocommerce Development
Bert's wanted to allow their customers to order certain dishes online, as well as different promotions and initiatives (i.e. pizza kits). To do this we worked with them to provide a menu based ecommerce experience, which would accept orders within opening hours and auto calculate pick up times. This allowed Bert's to compete directly with the likes of Just Eat/Uber Eats etc, without their fees or limitations.
EPOS Integration
Accepting takeaway orders whilst running a busy restaurant requires seamless integration. Berts already used the Tevalis EPOS system; we worked with Tevalis to leverage their API, integrating the already running in house software, ticket printers, stock, pricing and dish customisation with the website to allow for a smooth customer experience, and a hassle free kitchen.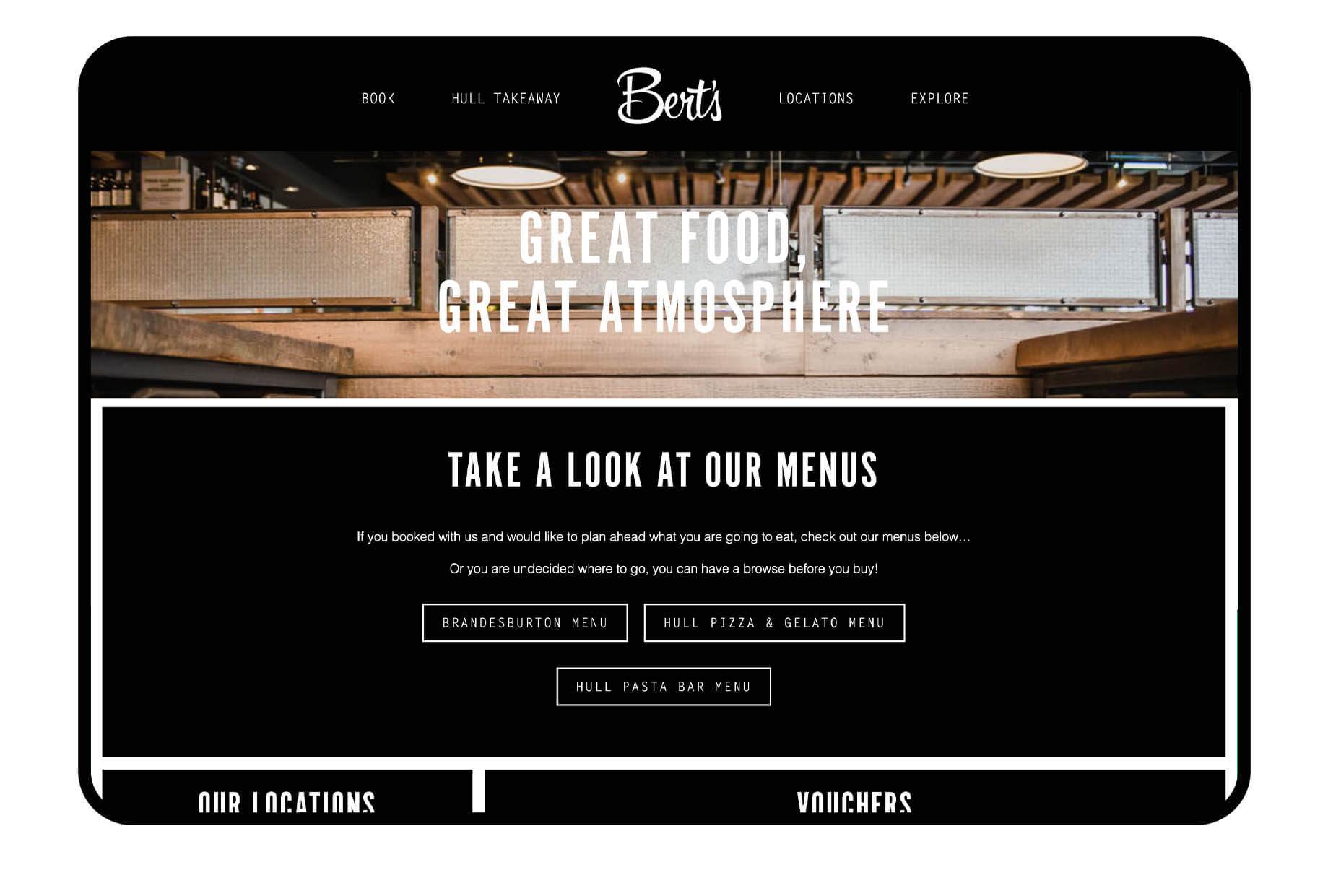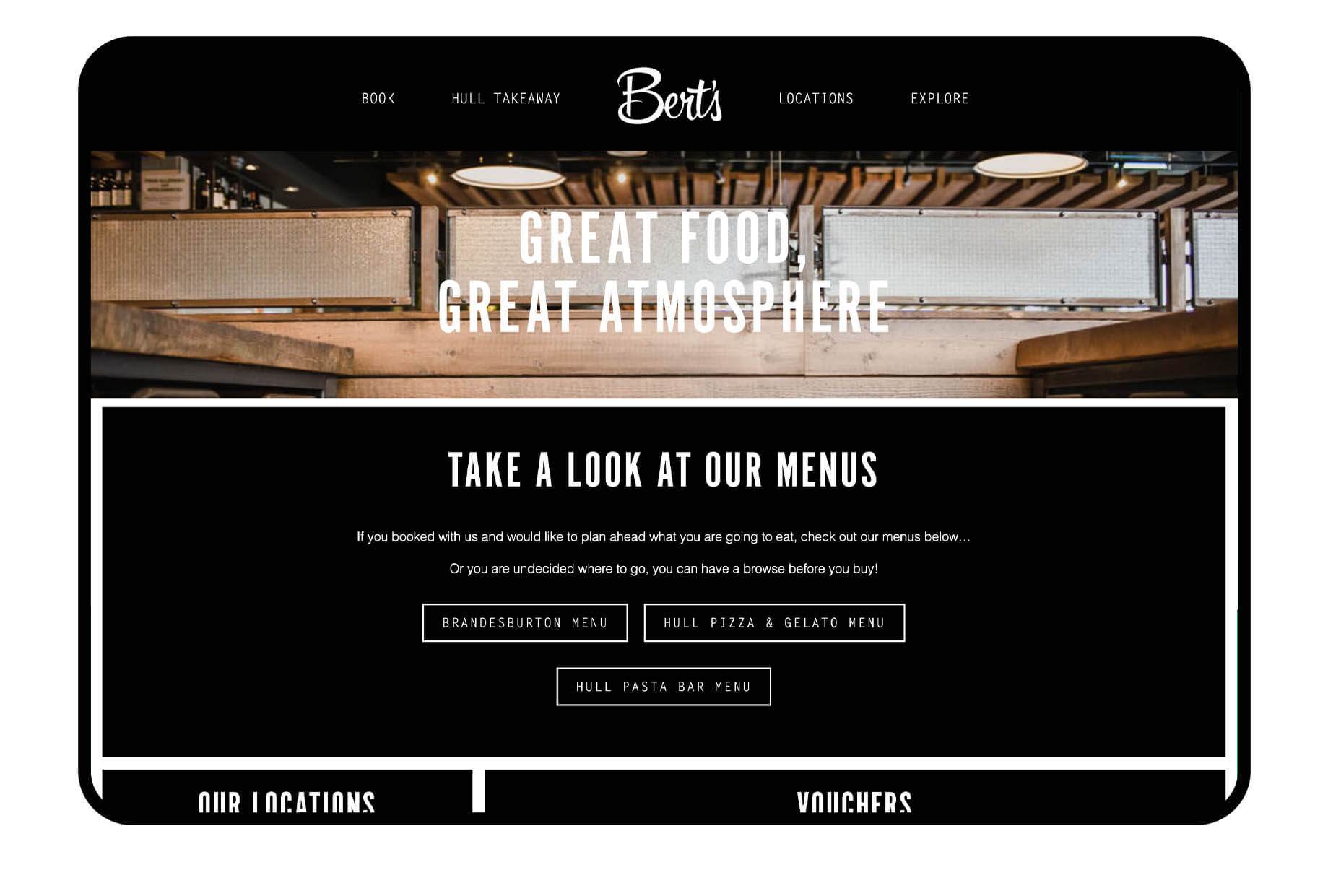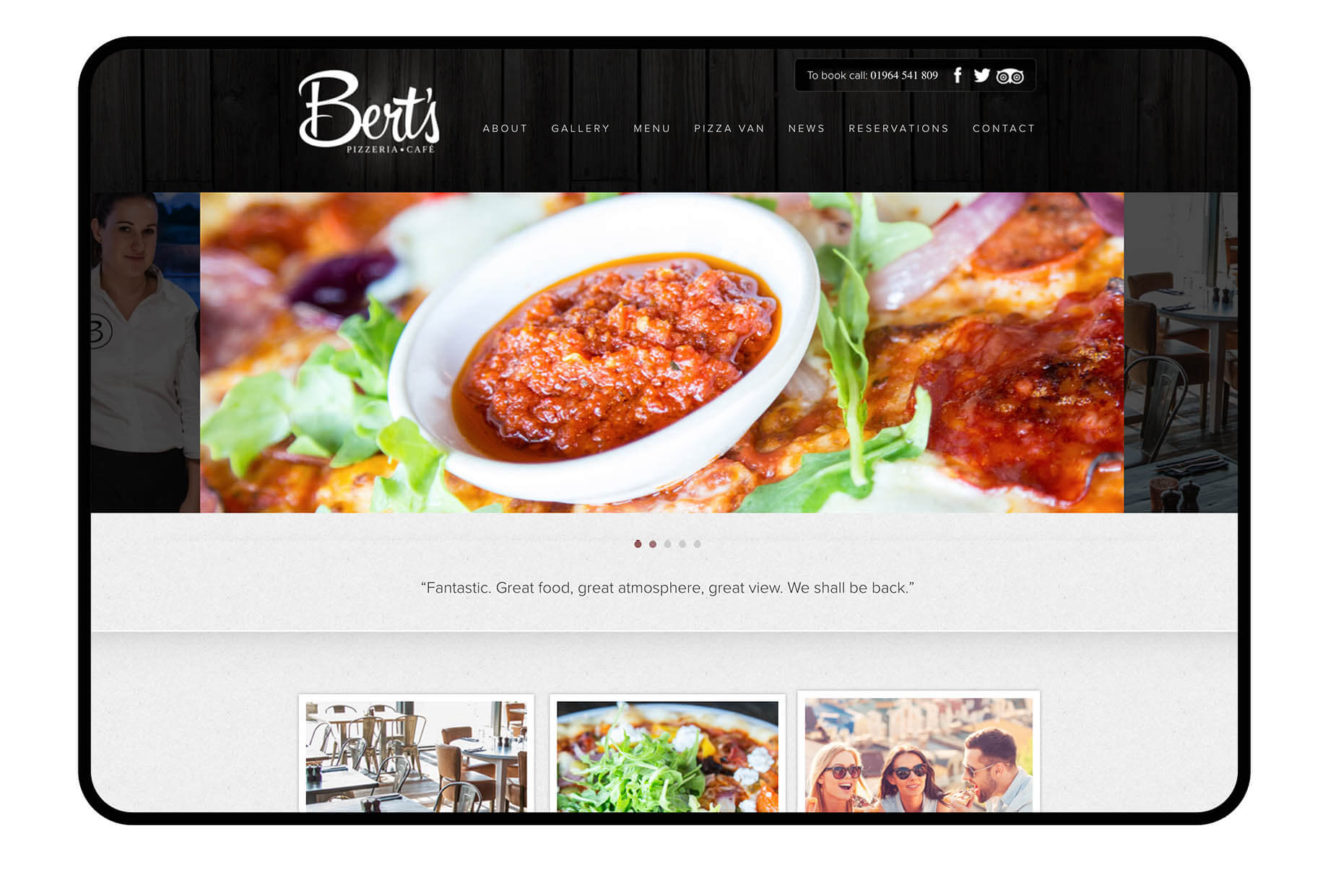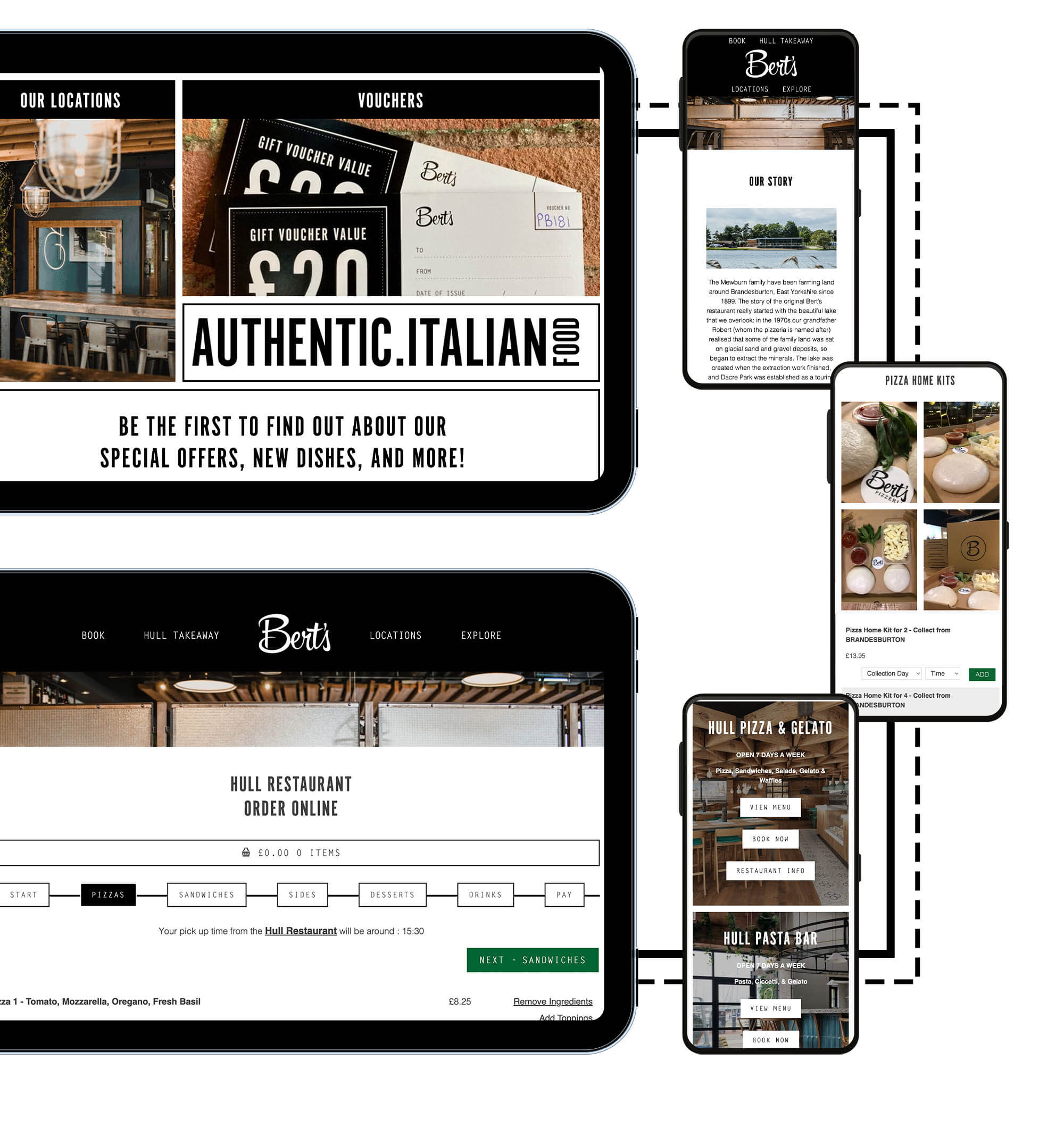 Creative Services
Bert's approached us to work with them on a completely new style of different printed materials, as they felt that their existing range no longer represented their business image and ethos. This was then complimented with photography of their staff and signature dishes.
Photography
The photos of the interior were carefully planned to make the most of the natural light that floods in through the floor-to-ceiling windows at the front of the building, and the wonderful views beyond. We worked with the staff to put them at ease and make sure that the photos of them were relaxed and informal, in keeping with the welcoming ambience of the restaurant. The dishes to be photographed were decided in advance, and we worked with the owners and kitchen staff on the timing of the food to ensure that each dish was photographed as soon as it was ready.
Graphic Design
We have worked with Bert's to create ongoing print materials, from discount flyers to giant banners to promote the opening of a new restaurant. The other printed materials were subsequently based on the look and feel of the new menus, the company's brand is now very recognisable across all mediums.
Menu Design
We had several meetings with the Bert's Owners to discuss in detail their ideas on layout, design, and overall production of the new menus. We then worked on an initial concept for the menu pages based on their requirements: refined, clean, informal, and with a distinctive Italian style. Since then we have adapted and evolved the menu to cater for the different restaurants.