Case Study
– E-commerce Website Design & Development
– Digital Strategy
– Copywriting
– Hosting
– Photography
– Graphic Design
– Packaging Design
– Social Media
– Google Rankings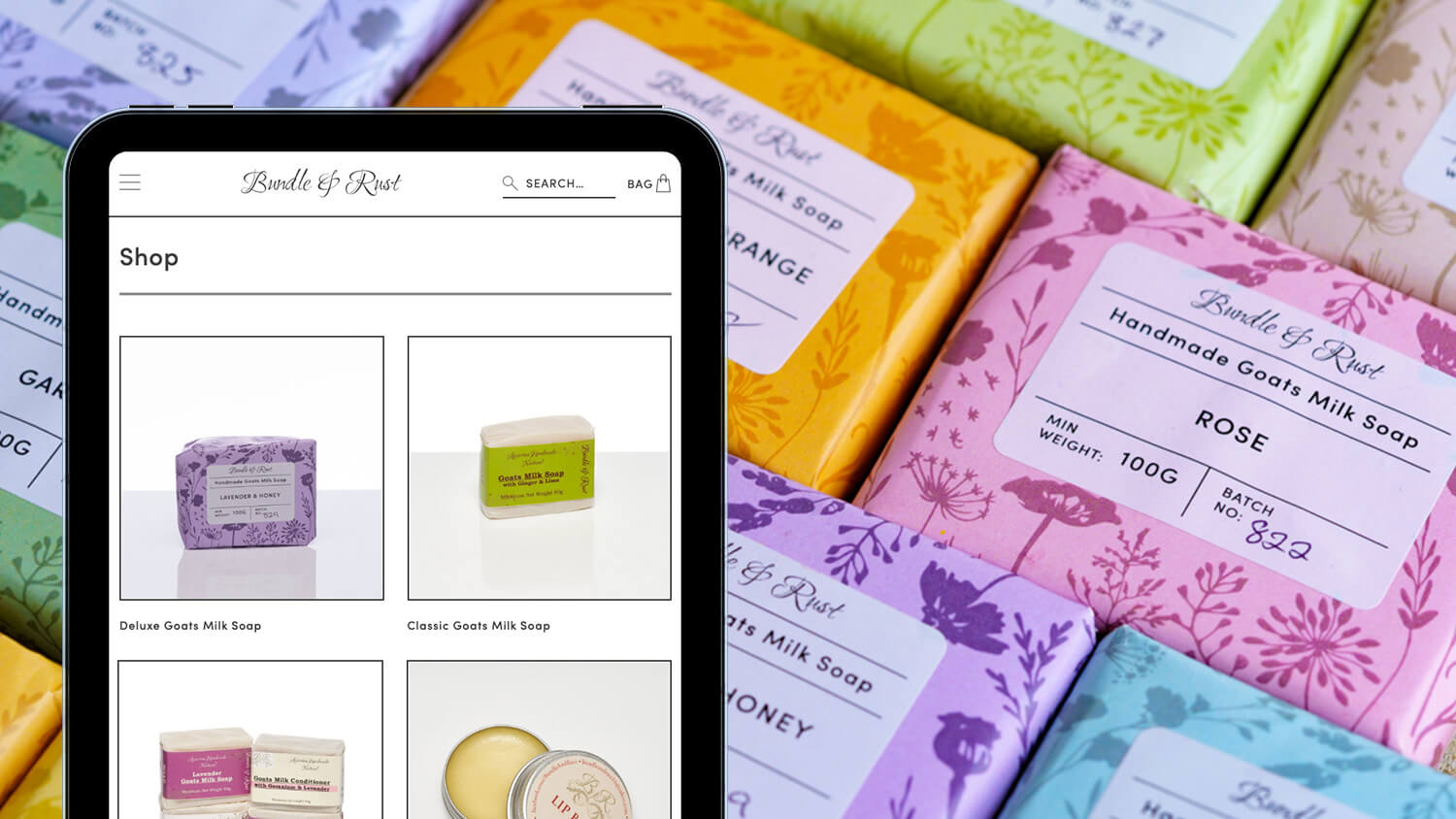 Bundle & Rust sell handmade skincare products including goats milk soap and shampoo bars, soya wax candles, mens grooming products and more recently have introduced a range of horse and dogs products.
They initailly approached us to help with their online marketing, although it soon became clear that what they really needed was a new website. The old one was not modern, user friendly, or a good platform for their products. It didn't represent them and the old-fashioned look and feel didn't appeal to their target market. They agreed, and the new design was created with the products at the heart, as well as their strong ethical values. Sustainability is a big part of the business and that needed to show in the website.
Our services now include social media planning and creation, packaging design, email template creation, managing the website, photography and ensuring their online presence represents them perfectly.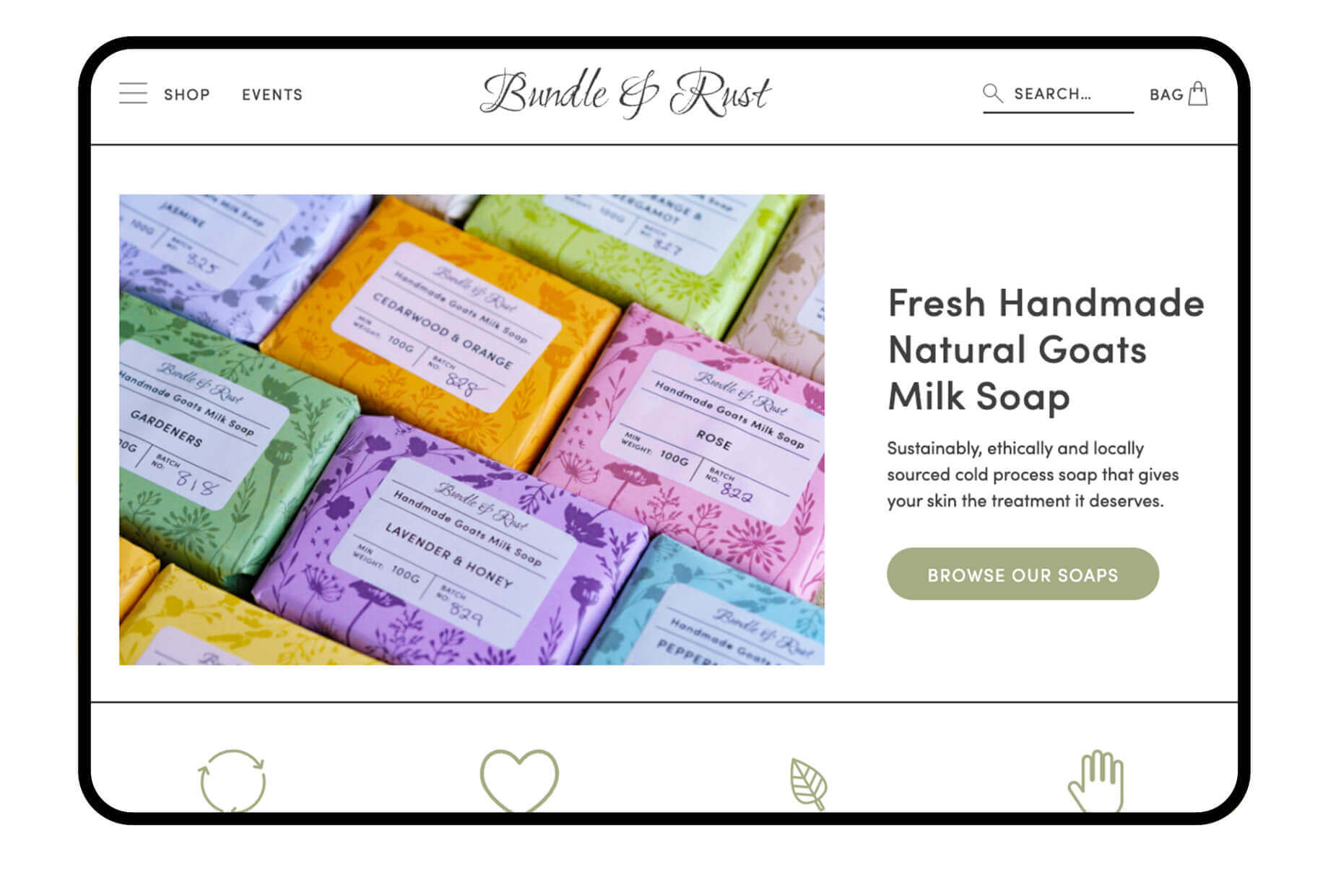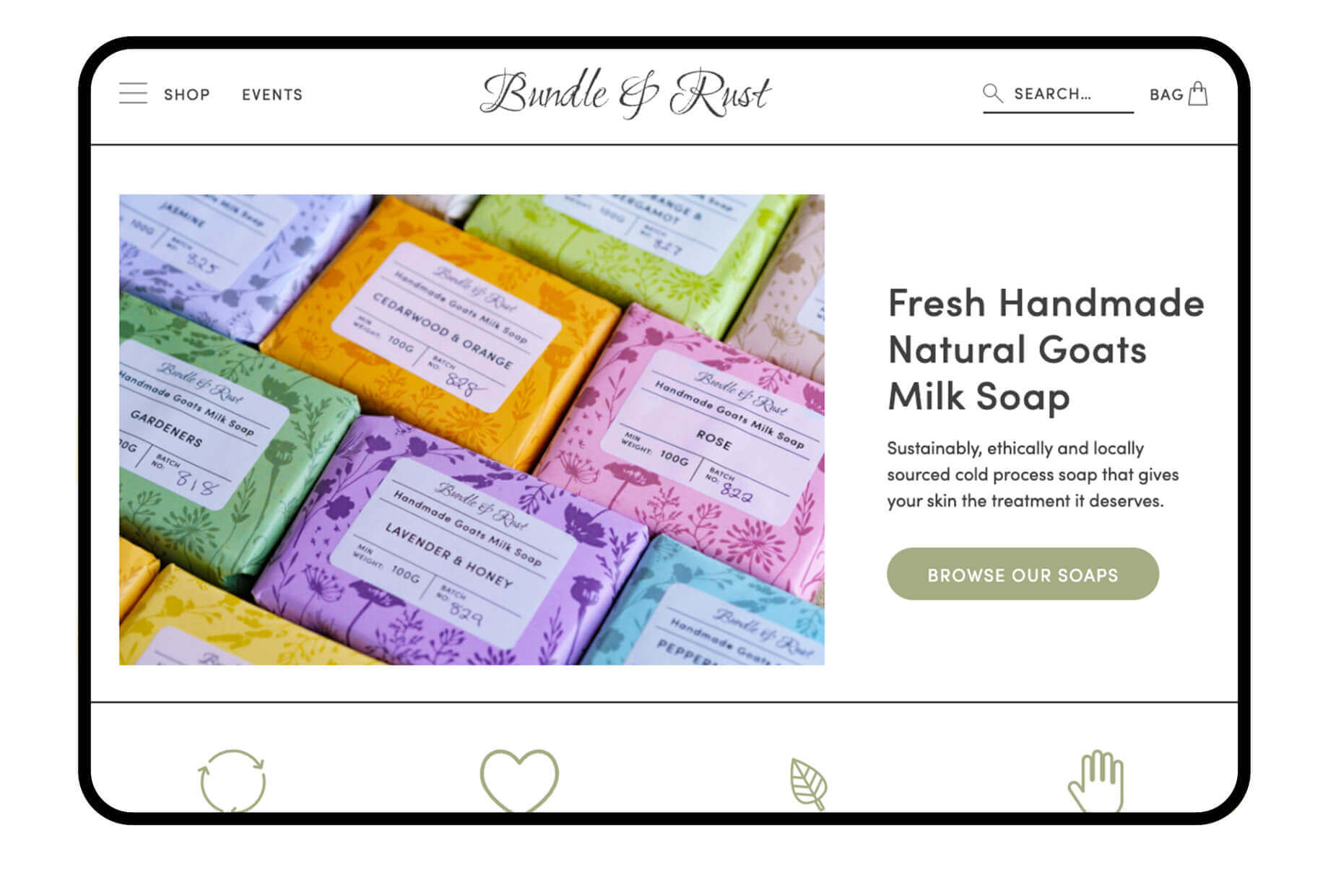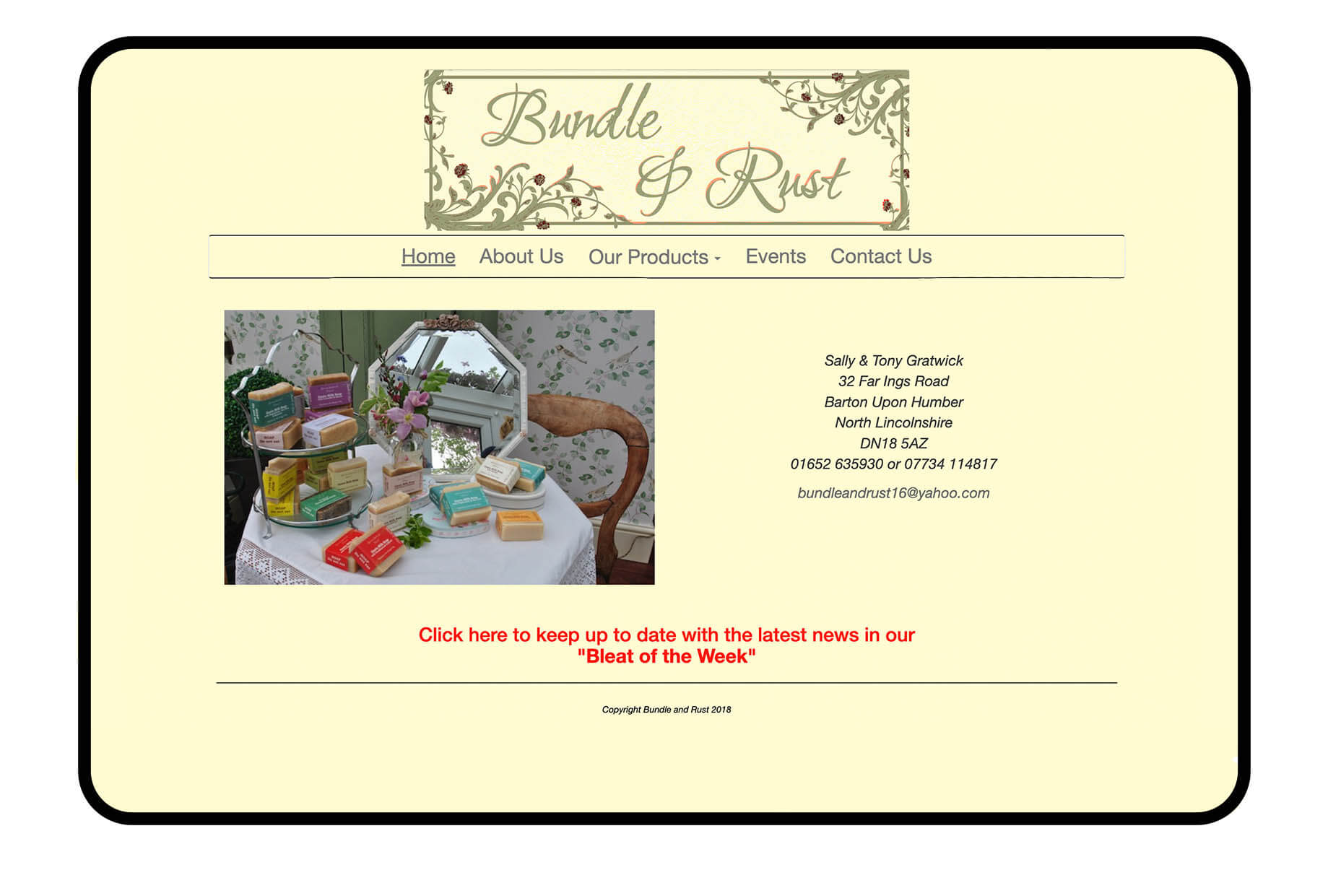 Web Services
In addition to Bundle & Rust's in-person sales at shows and events around the country, they wanted to expand selling online and needed an eCommerce website to achieve this. They were getting all their online sales through Etsy, however the sales fees were very high.
Selling from their own platform would significantly reduce this cost per item, and give them full control over how their brand would be presented to world.
Website Design
Bundle and Rust's previous website was very outdated and didn't show off the products to their full potential. We approached the design of the website with a clean, sleek look and feel that would allow them to be competitive in the current market. The design of the website was very minimal and had little colour to allow the soaps and other products to be the primary focus, this was also backed up with the clean and professional photography done by our photographer Mark.
E-commerce Development
The existing site was a brochure site with very little search engine traction. With no ongoing ads marketing budget secured, it was important to develop a site that could gradually climb it's way up SERPs so their customer base could find them. The product lines needed to be easily updated, and have inventory tracking, all managed in house. WooCommerce provided a good foundation, and the theme we designed showcased their products front and centre, making it quick to load and easy to use.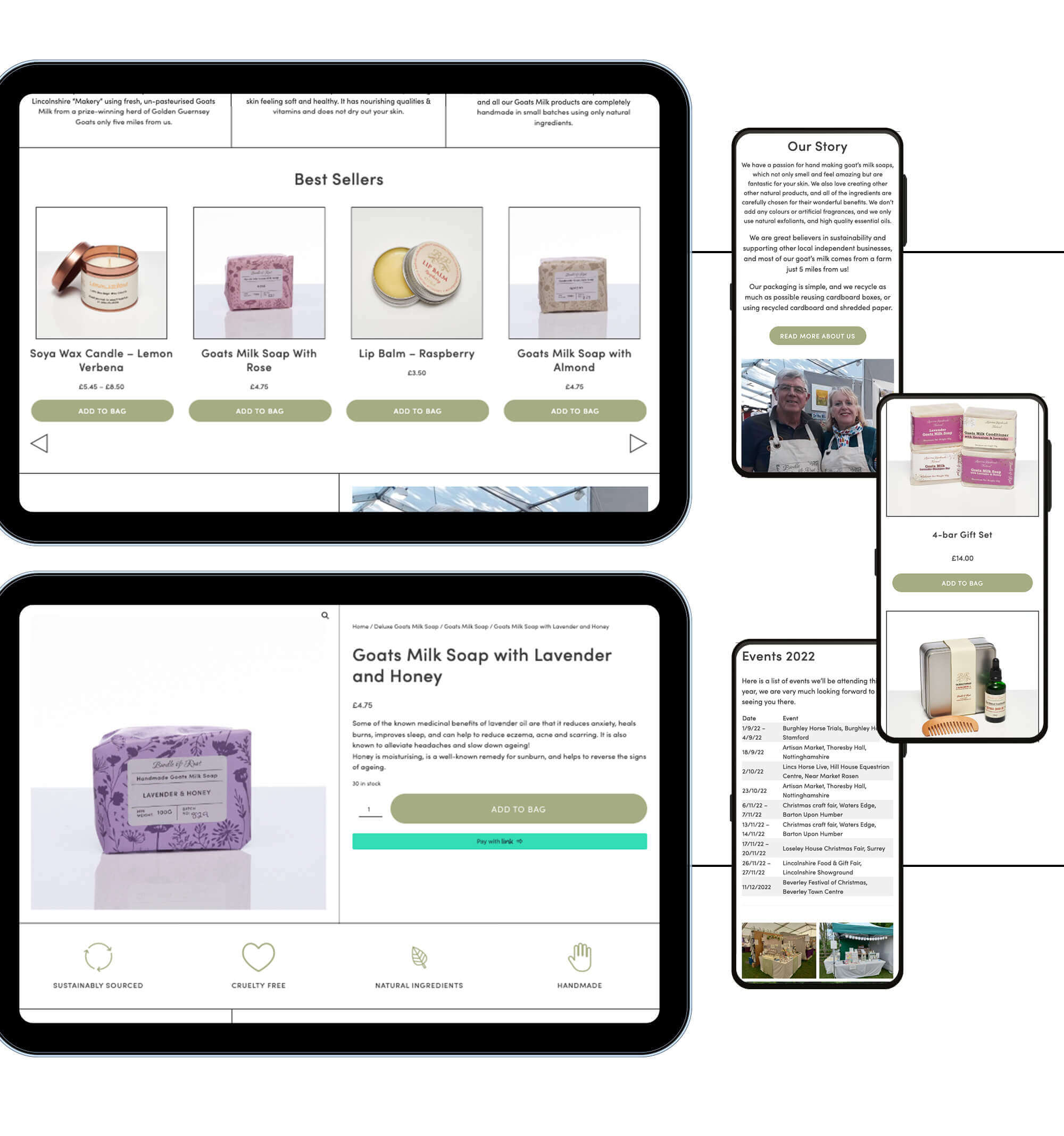 Digital Services
Sally and Tony have always been very involved in the work we carry out, they are very enthusiastic and we have worked with them to show their passion in everything we do. They have a good following on social media, and are growing their email list. We have created social media graphics to promote the products, and an email template to help them reach subscribers. We advise them on best practice for their own posts, and are always on hand to keep the website updated with events and new products.
Brainstorming
We are in regular contact with Tony and Sally through email, phone calls and face-to-face meetings. This helps us to ensure that everything we do is in line with their expectations. Our marketing team have worked on improving all aspects of the business through monthly plans and growth strategies. The new website has ecommerce set up, and they are starting to see a regular increase in sales through it.
Digital Strategy
Our marketing team have worked on improving all aspects of the business through monthly plans and growth strategies. The new website has ecommerce set up, and they are starting to see a regular increase in sales through it. We carry out regular competitor analysis to keep the website relevant, and we monitor keywords to ensure that the website is found by people searching for their products.
Copywriting
Sally and Tony have provided some content for the website, and we have taken some from their Etsy listings. This has been rewritten in a way that is good for online searches, and makes sense to the viewer. As with all the content, it has been created with the passion that they have for the products and business, and life in general. People buy from people, and we have worked hard to get their personality across in all the content on the website and on social media.
Social media
Social media is a big part of their marketing strategy and we create monthly planners to help them connect with their customers and gain new followers. We use their products and how they benefit people as the main focus of posts, as well as talking about the events they attend and the various celebration days throughout the year. They often post while they are at events, or creating their products, and we have advised them on the best way to write them, tag others, and use hashtags.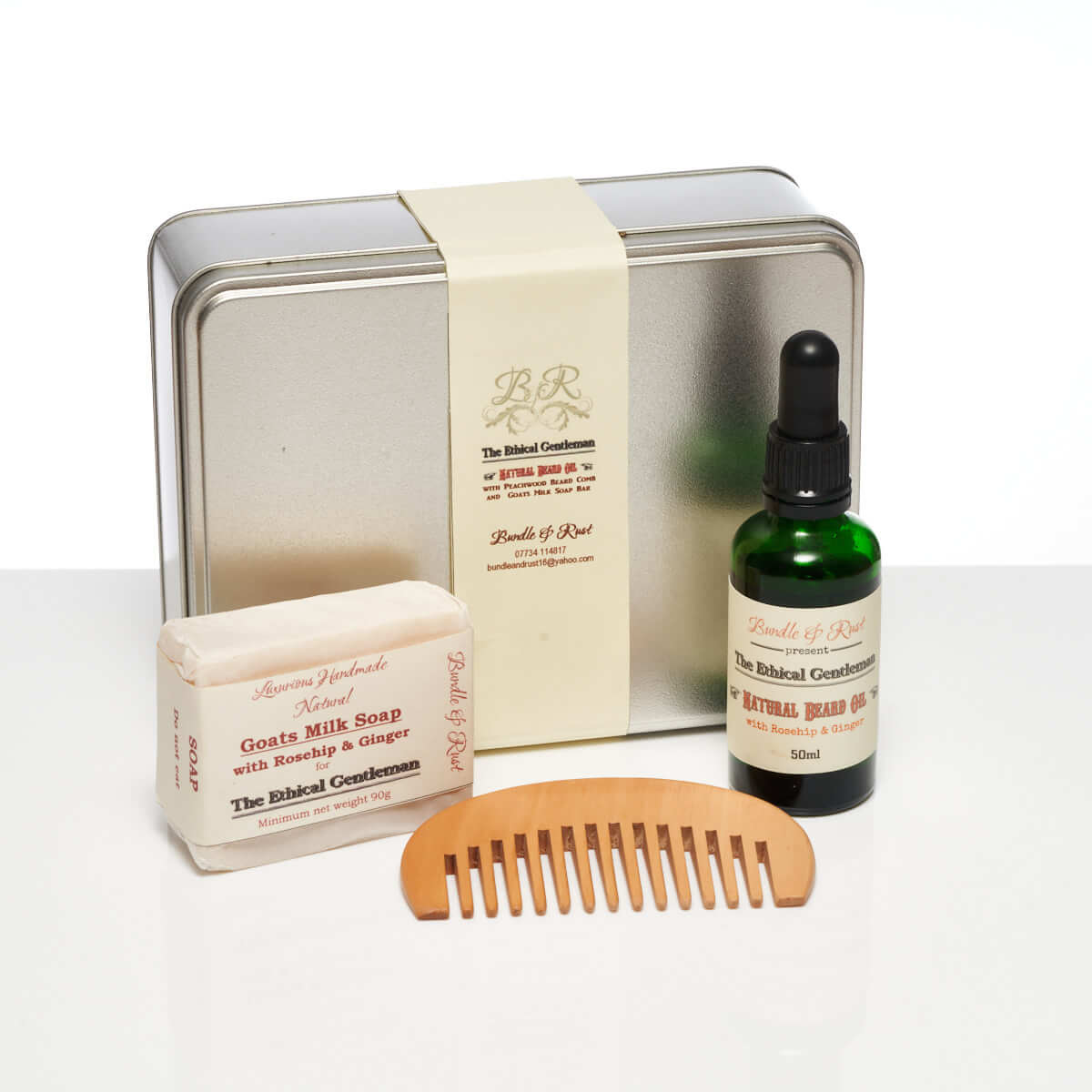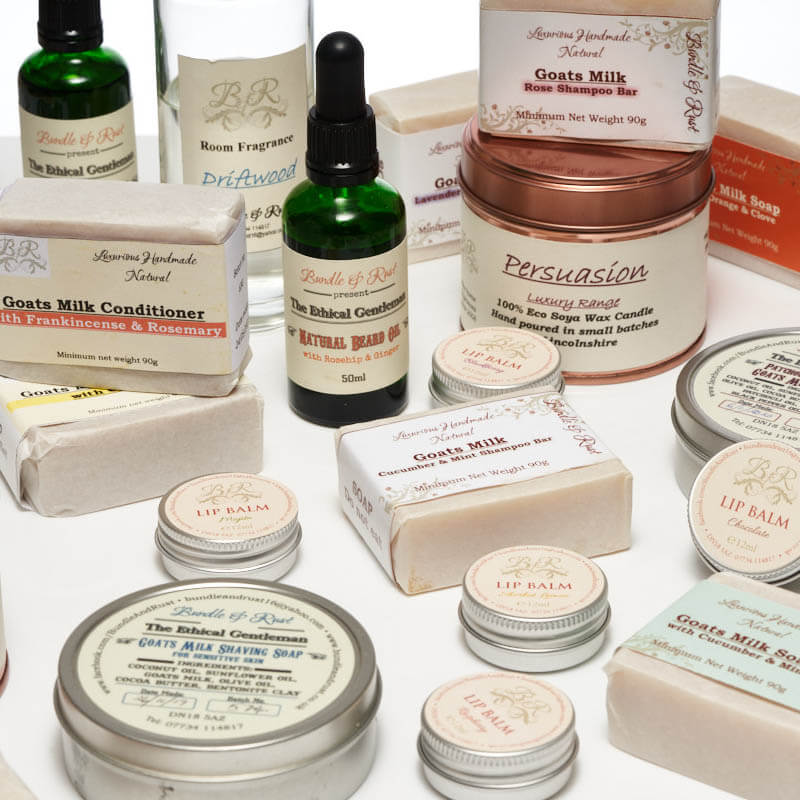 Creative Services
Bundle & Rust needed an eye-catching look that showed the products off perfectly, and we have created this for them using simple designs and layouts that have the products at the centre. No fancy gimmicks or backgrounds to distract the eye, just the products in all their glory.
Graphic Design
As part of the social media strategy, we suggested they post some graphics showing different products they sell and their benefits. Not only would this help advertise their wide range of products, but the use of a template design would keep the brand consistent throughout their platforms. The templates were created based on the new website, keeping the background clean and simple so the focus could be on the products.
Packaging Design
Last year Sally and Tony decided that they wanted to create new wraps for their soaps, we worked with them to design the wrapping paper and stickers, using the soap fragrances as inspiration. They have started with 12 of the most popular fragrances which now have a more modern, colourful look. The paper we sourced also works well to prevent oil seeping through from the bars.
Photography
The photography they used originally was rather old fashioned and not appealing to the younger demographic who they wanted to target. We suggested a much simpler, cleaner look for the images, that showed the products on a white background. This is much more in keeping with the new website design. The group shot of the new packaging made a great header for the website and their Facebook page.