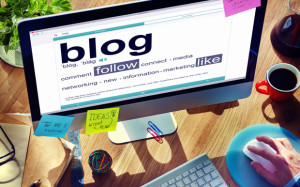 A recent survey by HubSpot reported that businesses who blog receive 55% more visitors to their website, and 57% of businesses get new customers from their blog – and yet when you mention the word 'blogging' to many businesses they feel it's something they don't have time for.
If that's you, think again!
Here are 3 compelling reasons why you should have a business blog:
1. It will drive more traffic to your website
Blogging achieves this in several ways:
a. It provides Google with the fresh content that it loves – when people search on the internet, Google wants to be able to suggest websites which are rich in up-to-date content and will give the user a great experience
b. It allows you to get some more keywords out there to maximise your chances of appearing in Google search results
c. Blogs give you a good opportunity to 'backlink' to your website (an important element of Search Engine Optimisation)
2. It shows your credibility
Blogs are a great way to pass on useful, relevant information to potential customers to make them think "Wow, these guys really know their stuff…!". But remember it's not about foxing people with long words and industry jargon – you must talk in terms that your audience will understand
3. It gives your business a personality
People buy from people, as the saying goes… gone are the days of faceless corporate identities and heady jargon – successful marketers have learned that shining a spotlight on the individuals in your business and showing a business personality attracts customers.
If you're still concerned that blogging is something you simply wouldn't have time for – or that you wouldn't know where to start with writing blog articles – Holler Marketing can help! Give us a call today on 01964 542916 or email us at [email protected].
www.yorkshiremedia.co.uk