During the last 5 months we've spent quite a few days at the seaside – but before you begin thinking that we're slacking or we haven't anything else to do, we have a very good reason.
Earlier on in the year Holler Marketing were asked by the London-based owners of South Shore Holiday Village, Bridlington to give a full review and marketing appraisal of how to raise the profile of their Holiday Village, located on the prestigious South Shore beach in one of East Yorkshire's premier summer holiday destinations.
The brief was quite simple; to renew their branding, create new signage, a corporate look and feel, design a new website and bring more visitors to the Village. It's fair to say that under the previous owners, there just hadn't been the resources to bring things up to date, therefore we've spent many an hour on the beautiful seafront, sketching, drawing, discussing and generally throwing about ideas – the odd ice cream has also been consumed we have to confess ……
So far, we've worked on the following:
New Branding and Logo Design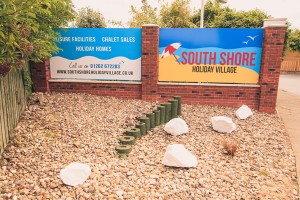 The new design aims for a real "traditional holiday" look and feel, "almost retro" you could say, reminding us of what we looked forward to during our childhood trips to the seaside.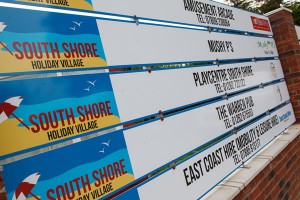 Branded Signage
We've designed and produced exclusive "Avenue" signage and "For Sale" boards to give a consistent look and feel so that whever people look, they are reminded of the South Shore Holiday Experience.
Web Design & Web Development – www.southshoreholidayvillage.co.uk 
Creating bespoke websites for Yorkshire businesses is one of our passions so we took the new branding and designed a unique website, with simple navigation in order to showcase the facilities of the Village but more importantly the Holiday Hire and Chalet Sales opportunities.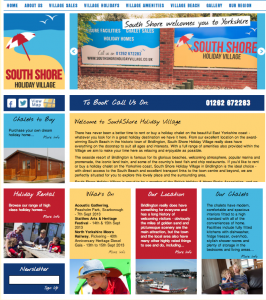 In addition to the above, we're also involved with future Marketing Planning, PR Events, Online Marketing as well as Photography, Video and Advertising Editorials – so when we say we're off to the seaside, it's certainly not a day off work …… !!
If you would like to know more about how Holler Marketing could help your business to grow and expand, give us a call on 0845 557 5769 or send an email to [email protected]