You may have seen a message on you computer warning you that a website you are trying to view isn't secure, this is because they don't have an SSL certificate, it's incorrectly installed or has expired.
In October 2017 the latest Google Chrome update began flagging websites that have a form but that didn't have an SSL certificate with a red "not secure" warning in the search bar. Chrome has 47% of the market share, so there are millions of users out there who'll see this if your site isn't secure. According to Hubspot research 82% of people said they would not click on a website if they saw this message.
What is SSL?
SSL stands for secure sockets layer, which ensures all data between a web server and browser stays private. This helps to build trust with users and increases credibility. Lets face it, if you're faced with a warning message saying a website might be trying to steal your details you're not going to click on it. I know I wouldn't!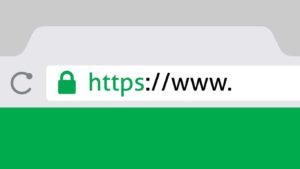 Why have SSL?
There are plenty of reasons for installing an SSL certificate on your website. Apart from the security it offers to your visitors; any information they enter onto your site including contact details and payment details are not secure without it, there's the loss of potential customers who never even make it as far as your website. Trust is an important aspect to any online transaction, and people are more likely to use a website that has an SSL for purchases where they have to enter payment details. Secure data transmissions mean increased revenue for ecommerce sites.
Having an SSL is good for SEO as it's a way of showing your site is current and is trustworthy, so is more likely to be shown higher in search results. This increases traffic to your site, which in turn increases your rankings, which leads to being shown higher in search results…you get the picture.
Another benefit is that some online payment portals can only be used on websites that have an SSL. Paypal, Stripe, VISA and AMEX only connect to secure websites, so it's a must if you want to accept these forms of payment.
What next?
Contact your web developer to ensure you're fully compliant, and that your SSL is installed correctly. They need renewing so don't let it run out or you could lose business as well as rankings.