80% of the population now use a smartphone to access the internet, and 47% use a tablet1.
30% of all website page views in the UK are now from mobile devices (i.e. smartphones and tablets)2.
Over 50% of visitors will abandon your website if it takes more than 3 seconds to load on their smartphone3.
Can you see where we're going with this?
If your website isn't properly geared-up for use on mobile devices, you are at serious risk of losing a big chunk of your website visitors.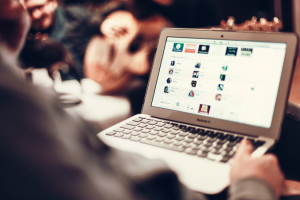 61% of users said that they would quickly move on to a competitors' website if they struggled to use a website on a mobile device4. As you'd expect, Google is on to the demand for mobile-friendly websites: in 2014 Google Web Master Central announced that it was changing the way that it ranks websites to favour those which are mobile-friendly.
So how can you make your website mobile-friendly? Isn't it expensive and complicated?
In short, no – get a bit of expert help to simplify your website content so that it will load as quickly as possible, and so that users can find the key information easily on a small screen (but remember that it still needs to look good on a full-size PC or laptop screen!). The design elements of the website also need to automatically shift to fit the size of tablet and smartphone screens (the website needs to be 'responsive').
Holler Marketing are experts in creating cost-effective mobile-friendly websites, and can revitalise existing websites to be mobile-friendly too – don't risk losing those all-important website visitors.
Sources:
Comscore
Global Web Index
Google, Sterling Research and SmithGeiger
Google, Sterling Research and SmithGeiger